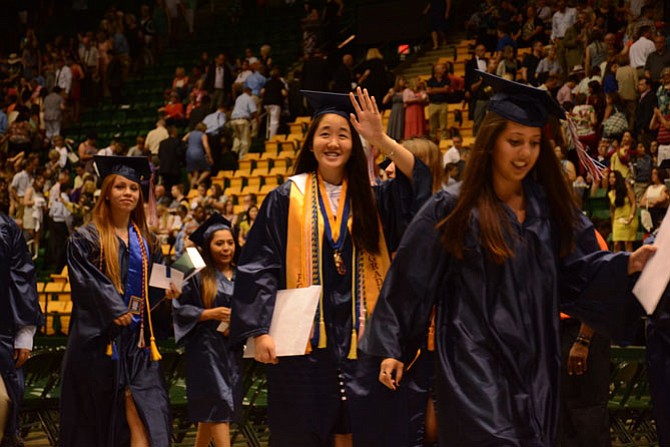 Photo Gallery
West Springfield Graduation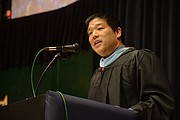 Click Photo for Flash
First-year principal Michael Mukai commented that after his brief time with West Springfield's graduating seniors, he wasn't ready for them to go yet.
"And your parents, after 18 years, aren't ready for you to go yet either," Mukai said, to a mix of applause and laughter from the audience at George Mason University's Patriot Center.
604 navy-gowned graduates, one of the school's largest classes, sprawled across the floor of the basketball arena.
Honor Graduate student speaker Grayce Angle triumphantly assured her fellow grads, "We did it! We're finally ready to close the booklet on standardized testing."
Angle was one of 130 "honor graduates" recognized for their high final grade point average. "It's an awesome accomplishment," said assistant principal Johnny Pope.
Angle used testing as a framework for her address, explaining high school was also an opportunity to learn skills "that cannot be measured on a standardized testing sheet." She closed by quoting author John Green, saying on the test of life, "Everything, everything will be on it. Good luck, your time starts now."
West Springfield English Teacher Jamie O'Neill followed Angle with the keynote speech. Inspired by the wise turtle character from the movie "Kung Fu Panda," she offered the advice: "Yesterday is history, tomorrow is a mystery, today is a gift -- that's why they call it the present.
"Today is also something you can give," O'Neill added. "Embrace today."