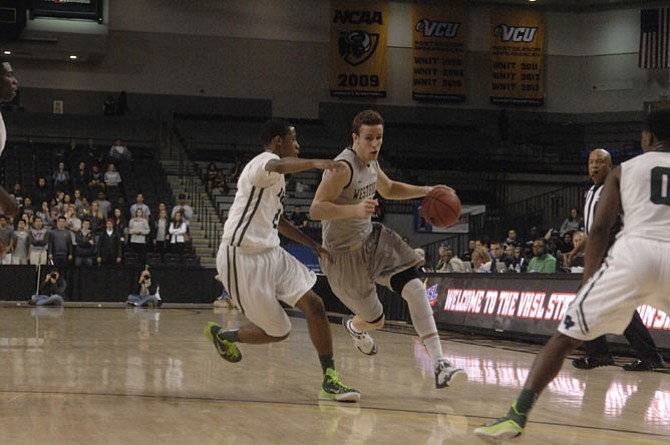 After overcoming a 15-point first-half deficit, the Westfield Bulldogs had a state championship in their grasp Saturday night.
Then four missed free throws and a "lucky bounce" changed everything.
With a lead and a chance to ice the game, the Westfield boys' basketball team went 0-for-4 at the free-throw line in the final minute, opening the door for defending champion Colonial Forge. After the Eagles missed twice during their final possession, sophomore guard James Shellington scored on a putback to take the lead with 3.2 seconds remaining. Westfield failed to get off a shot in the final seconds and Colonial Forge repeated as 6A state champion with a 47-46 victory on March 14 at VCU's Siegel Center.
"It was a great game — great atmosphere," Westfield head coach Doug Ewell said. "I thought we started off a little slow, very similar to last [night's semifinal victory over Landstown]. [We] picked it up [with] typical Westfield basketball: getting stops, grinding, grinding, grinding, [but we weren't] able to get the last stop."
Junior point guard Blake Francis' bucket with 1:27 remaining in the fourth quarter gave Westfield a 46-42 lead. Colonial Forge's Shellington scored 20 seconds later, cutting the Westfield lead to two, but the Bulldogs were still in control.
However, Westfield twice missed a pair of free throws in the final 43.2 seconds, giving Colonial Forge an opportunity. After the first two Westfield missed free throws, Colonial Forge guard Carion Eaton made one free throw to cut the Westfield lead to 46-45. The Bulldogs then missed a second pair at the line, and Shellington put back the game-winner at the other end of the court.
"That last play, we couldn't snag that board," Westfield senior guard Jacob Williams said. "… They got a lucky bounce and it [went] right to [Shellington] and he finished the layup."
Ewell downplayed the impact of Westfield's late missed free throws.
"It had nothing to do with free throws down the stretch," Ewell said. "We were down [31-16], nobody asked about free throws then. … If anybody looks back at free throws, then they don't realize where [the Bulldogs] were at and where they got to."
Westfield shot 9-of-17 from the free-throw line, including 3-of-10 in the second half.
Westfield junior Tyler Scanlon finished with 23 points, accounting for half of the Bulldogs' offensive production. The first-team all-region selection shot 4-of-5 from 3-point range, grabbed three rebounds and dished three assists.
"Tyler, he's a Westfield guy," Ewell said. "He's a grinder. He's an amazing young man. Knowing Tyler, he'll be calling me tomorrow saying, 'Hey, coach, can I get in the gym?"
Westfield's Francis, a first-team all-region selection, finished seven points on 3-of-14 shooting. Michael Scruggs had five points, Zach Sheahan and Williams each scored four points and Patrick Lawless added three.
Winston Burgess and Marco Haskins each had 12 points for Colonial Forge.
Westfield entered the state final with a 25-game win streak and finished the season with a 27-2 record. The Bulldogs won Conference 5 and 6A North region championships along the way.
One day before the state championship game, Westfield defeated Landstown 64-60 in triple overtime during the state semifinals. Several Bulldogs came up big during crunch time.
Trailing by one late in regulation, Williams came up with a steal and scored, giving Westfield a 49-48 advantage.
In the second overtime period, Scanlon tied the score at 54 with a 3-pointer, and then forced a third overtime by knocking down a pair of free throws with 3.8 seconds remaining.
In the third overtime, Lawless knocked down the go-ahead jumper with 1:27 on the clock, and iced the game with a free throw with 7.3 seconds remaining.
Scanlon finished with 20 points and Francis added 17 against Landstown.
"I'm sure for Blake and Tyler, they're like, 'Let's get it on, let's start working for next year. I can guarantee that. I think a simple goal is … get back here next year and finish what wasn't finished."