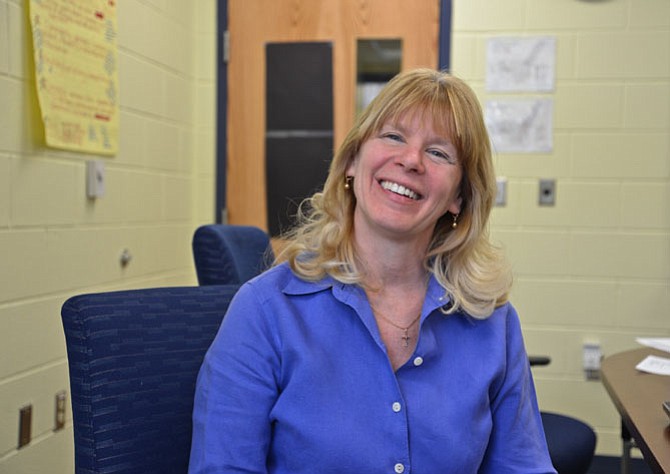 The nominees come from all over the Commonwealth of Virginia, but it was Mary Anne Rossbach, a sixth grade teacher from Sunrise Valley Elementary School in Reston, who accepted the 2015 William C. Lowry Mathematics Educator of the Year award on Saturday, March 7 at a dinner ceremony in Virginia Beach. This accolade comes officially from the Virginia Council of Teachers of Mathematics, but praise for Rossbach came from all quarters when her award was announced. In a press release issued by the Fairfax County Public Schools, her nominator, Liz Goswick, praised Rossbach as "the force behind our school adopting math problem solving as the focus for our school improvement plan." Goswick is the lead special education teacher at Sunrise and a member of the school's math committee and school improvement team.
Rossbach has 27 years of experience as a teacher, 17 of them at Sunrise Valley. She earned her bachelor's degree from James Madison and her master's degree from the University of Rochester. She says that her passion for math really began during those college and postgraduate years, where she discovered mathematics teaching methods that differed from the traditional ways in which she and many of us had been taught. "Kids need opportunities to be hands-on, to construct their knowledge rather than simply learn by rote or formula," she states. "That's why we use a lot of props in my classes and we always look for real-life problems to solve using math." A prime example of that situational teaching method was how Rossbach used the school's extensive renovation project as a teaching tool. Her class was given the project of preparing recommendations for the school's new playground facilities.
ARMED WITH BLUEPRINTS and plans from the construction company and architects, the class went to work "using the real space, real tools, and the real environment," explained Rossbach. And they even had the opportunity to further other skills, working in groups, problem solving, and creating and conducting a survey that they took to the other grade levels to gather input and develop their recommendations. Rossbach's former student Margarita Gamarnik agrees that it was a great experience. Gamarnik, now at Langston Hughes Middle School, recalled that the project "brought math to life. And it was great to problem solve and work in small groups. It would be great if I went back to Sunrise and saw some of those designs we made put into practice." Gamarnik also praises her former teacher for giving her "a good foundation." At her new school, she believes that the teaching methods of Ms. Rossbach "made the transition so much easier. I don't think I would be as successful at this level without her guidance," said Gamarnik.
ROSSBACH earned her award because of her dedication to math education outside as well as inside her own classroom. She has worked on staff development in math, teaching not only at Sunrise, but at schools within her own cluster region, and hopes to continue to do so. "It's important that we bring our best practices to each other, so that in turn, we bring them to our students," Rossbach said.