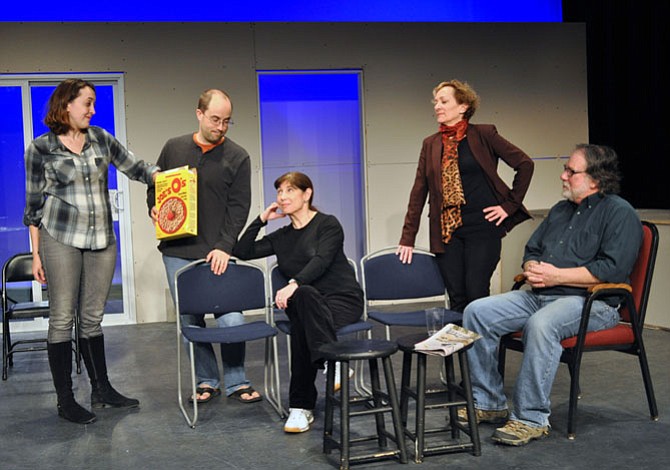 Friday/March 20
Rita's 23rd Annual First Day of Spring Free Italian Ice Giveaway. 12-9 p.m. Rita's of Fairfax, 10726 Fairfax Boulevard, Fairfax. Receive a complimentary limited-edition first day of Spring cup of Rita's Italian Ice to celebrate the new season.
Fireside Fun. 7-8 p.m. Walker Nature Center, 11450 Glade Drive, Reston. With a hint of a chill still in the air, the fireside is a perfect place to gather, share stories and think of warmer days soon to come. Make campfire popcorn and taste a marshmallow treat. If the weather is nice, we'll meet at the fire ring. If it is too cold, snowy or rainy, we will meet by the fireplace inside Nature House at 11450 Glade Drive. All ages. Reservations required by March 17. Fee: $7/person RA members, $9/person Non-members.For more information, email naturecenter@reston.org, or call 703-476-9689 and press 5.
Enter the Haggis. 8 p.m. Wolf Trap, 1551 Trap Road, Vienna. Experimental roots-rock stalwarts push the boundaries of Celtic music with vigorous performances and inventive albums. Tickets: $28.
St. Paddy's Day Party. 7-9 p.m. The Old Firehouse Teen Center, 1440 Chain Bridge Road, McLean. These popular 5th and 6th grader parties include music, dancing, games, snacks, videos and more. $35/$25 MCC tax district residents. Advance registration is required. Call 703-448-8336.
Friday-Sunday/March 20-22
Friends of the Burke Centre Library Spring Used Book Sale. Thursday: 1 - 9 p.m. Friday: 10 a.m. - 6 p.m. Saturday: 10 a.m. - 5 p.m. Burke Centre Library, 5935 Freds Oak Road, Burke. Thousands of books to look through covering every genre of interest plus DVDs and CDs that have been donated. Proceeds benefit programming at Burke Centre Library and collection enhancement for the Fairfax County Library system.
Friday-Saturday/March 20-21
Reston Friends Children's Book Sale. 10 a.m. - 8 p.m. Reston Regional Library, 11925 Bowman Towne Drive, Reston. We have all your favorite children's book authors, plus teaching materials. Come browse and buy. All ages. http://www.fairfaxcounty.gov/library/branches/rr/.
Friday-Saturday/March 20-28
"Other Desert Cities." James Lee Community Center Theater, 2855 Annandale Road, Falls Church. Thursday, Friday and Saturday 7:30 p.m. Matinees at 2 p.m. March 15 & 22. Tickets: $17-$20. Does a daughter have the right to write a family "tell-all" memoir that will upset her orderly, well-to-do family? The Providence Players of Fairfax County invite you to reflect on that question and more with its next production, "Other Desert Cities." Call 703-425-6782 or visit www.providenceplayers.org.
Saturday/March 21
Great Falls Farmers Market. 9 a.m. - 1 p.m. Great Falls Grange, 9818 Georgetown Pike, Great Falls. Music, hot apple cider, lots of tastes and healthy provisions including fresh produce and the best beef and chicken for you to make that great pot of soup with crunchy bread on the side.
Katie's Cars and Coffee. 6-9 a.m. Village Centre, 760 Walker Road, Great Falls. Early on Saturday mornings you'll find an amazing gathering of cool cars at Katie's Coffee House. Antique, custom, hotrods, exotic, sports cars, they're all here.
Opportunity Expo and Job Fair. 1-5 p.m. West Springfield High School, 6100 Rolling Road, Springfield. The Greater Springfield Chamber of Commerce has partnered with Supervisor Pat Herrity and West Springfield High School PTSA to host a job fair for local job seekers. Although the job fair is not strictly for students and young job seekers, area high schools are making a push for students and parents to take advantage of this event to line up after-school employment, an internship, volunteer opportunities or a seasonal position for the summer.
Date Night: Chef's Table. 7-9 p.m. Workhouse Arts Center, 9518 Workhouse Way, Lorton. Anyone can go out for dinner and a movie so why not make your night something special to be remembered? Date Night cooking classes are designed to be fun, relaxing and an escape from the daily grind. They are great way to learn some basic cooking techniques while enjoying your company and making new friends. The menu items will be prepared by participants working together at each of the cooking islands. Participants will be served a tasting portion of all the entrees and a pre-chef-selected drink of choice. No one will leave hungry. Every month you will prepare a new dish ranging from ethnic cuisines like Japanese, Thai and Spanish High Cuisine to Vegetarian and much more.
Northern Virginia Housing Expo. 10 a.m. - 3 p.m. Herndon High School, 700 Bennett Street, Herndon. The Northern Virginia Housing Expo, a free public event showcasing rental and first time ownership opportunities in the region. Expo planners also announced a new web site that will link visitors looking to rent or buy in Northern Virginia with valuable region wide resources. At http://www.novahousingexpo.org, visitors will find resources categorized by jurisdiction as well as information on the upcoming Northern Virginia Housing Expo.
Weekend Bluegrass Concert Series: Mountain Faith. 7:30 p.m. Holy Cross Lutheran Church, 1090 Sterling Road, Herndon. Mountain Faith is a relatively new group of young musicians who are carrying on the legacy of traditional bluegrass and bluegrass gospel music.
Rummage Sale. 8 a.m. - 1 p.m. Epiphany United Methodist Church, 1014 Country Club Drive NE, Vienna. All proceeds go to "Stop Hunger Now."
Saturday-Sunday/March 21-22
"Totally RED!" 3 p.m. McLean Community Center, 1234 Ingleside Ave., McLean. An Alden Production. Meet Red (who is nobody's fool) and the wolf (who tries to be cool). The story is told in classic storybook theatre style and the show will be performed by MCC tax district youth. $12/$10 MCC tax district residents. www.mcleancenter.org.
Sunday/March 22
Hands On Modeling Day at The Fairfax Station Railroad Museum. 1-4 p.m. Visitors will be able to participate in hands on modeling activities and in the basics of artifact restoration. In addition, they will see demonstrations of common office items used at the Station in the early 1900s. 11200 Fairfax Station Road in Fairfax Station. Admission is free to Museum Members and children 4 and under; $2 children 5-15 and $4 adults 16 and over. www.fairfax-station.org, 703-425-9225.
Music from Oberlin at Oakton. 7:30 p.m. Unitarian Universalist Congregation of Fairfax, 2709 Hunter Mill Road, Oakton. Music from Oberlin at Oakton is a musical outreach program that is designed to give the Conservatory students an opportunity showcase their musical talents for interested audiences beyond Oberlin. Different groups of students perform in Oakton three times a year and we are kicking off our 14th season. Local alums and community gets an opportunity to enjoy superb music from the Conservatory that has received the 2009 National Medal of Arts from the White House presented by the President Barack Obama. It is a free concert open to the public and is especially great for the whole family as there are Q&A session with the performers and reception at the end.
Spring Fling Fashion Show, Luncheon and Raffle. Assaggi Osteria, 6641 Old Dominion Drive, McLean. The New Dominion Women's Club is pleased to announce the annual "Spring Fling Fashion Show, Luncheon and Raffle" fundraiser. Bloomingdale's will showcase the latest fashion trends. Community leaders and teens will serve as models. All proceeds benefit Claude Moore Farm, McLean Project for the Arts, Safe Community Coalition, and SHARE, Inc.