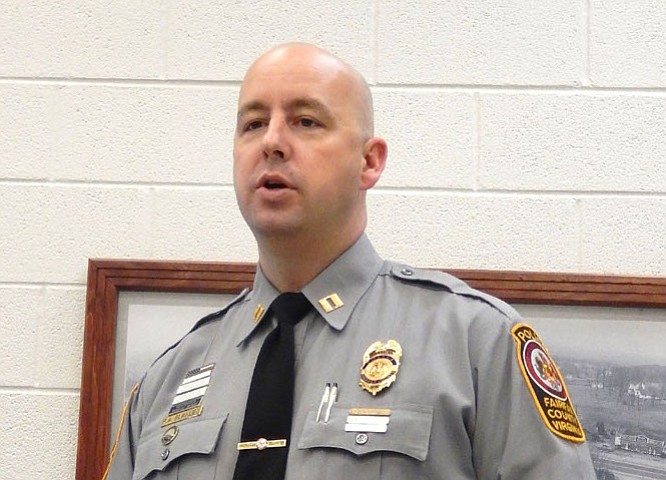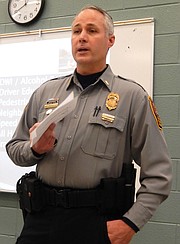 Residents at a recent meeting of the Sully District Police Station and its Citizens Advisory Committee (CAC) learned about crime and policing efforts in the Sully District. They also received information about last year's crime trends and the ways local police here are serving the community.
To start, Crime Prevention Specialist Tara Gerhard listed some of the crime-prevention initiatives the station held during 2014. They included Lock It or Lose It, in which officers tried door handles and discovered 14 percent of vehicles in Centreville's Union Mill Community were unlocked. They left notes inside these vehicles, advising their owners to lock them.
The station also did car VIN-number etching, Refuse to be a Victim and Senior Safety seminars, Neighborhood Watch training and a Realtor-safety presentation. In addition, it hosted CAC meetings and displayed a special police car covered with safety and DUI-prevention messages.
Community outreach efforts featured Scout safety talks, a Safetypalooza, Eagle Scout projects, visits to daycare centers and preschools, child car seat checks, properly fitting senior citizens in their cars and a food drive for local needy families. Officers also did a bike rodeo for children, participated in National Night Out and put on a Touch-a-Truck event attracting nearly 3,000 people.
Lt. Tim Burgess supervises the station's six-person Traffic Safety unit. "We ramped up our traffic-enforcement efforts, especially the DWI/alcohol checkpoints," he said. "We arrested eight people in June [2014] for DWI, four in August and one in December."
The station also collaborates with Fairfax County's United Prevention Coalition. "They make coasters encouraging people not to drive and drive," said Burgess. "And we handed out hundreds of them to restaurants serving alcohol."
Furthermore, he said, "This station made 247 DUI arrests between June 2013 and June 2014. And [police] cadets under 21 made alcohol stings, trying to buy alcohol, and officers arrested [the sellers]. So by doing education, enforcement and prevention, we diversified our efforts."
Police also put up sign boards saying "Watch out for pedestrians in crosswalk" and "Drive like you want your teen to drive." And they partnered with Wal-Mart, NOVA and local Boy Scouts to provide bike helmets to children and promote bicycle safety.
"This past summer, we had lots of complaints about [the lack of] crosswalks in Virginia Run — especially in the pool area," said Burgess. "So we put up big, orange sign boards to prevent fatalities, issued summonses and educated people about stopping for pedestrians."
Regarding trail safety, he said police will put bike patrols on trails this year to prevent criminal activity in parks and other recreational areas. He also noted an increased effort to slow down drivers in residential neighborhoods via radar trailers and sign boards. And he said police will introduce a new program to help communities control their traffic, plus the parking of boats, trailers and commercial trucks.
"Our main focus isn't just catching the bad guys, but also engaging the community and providing solutions to problems," said Capt. Bob Blakley, the station commander. He then presented a Sully District 2014 crime overview.
The report wasn't yet finished, he said, but he was able to give some preliminary statistics. Last year's calls for service totaled 79,000. "That's up 7 percent, but we're down the number of officers we have," said Blakley. "We're one of the slowest districts in the county; the Fair Oaks District had 106,000 calls for service."
The Sully District Station has 140 people, including 10 auxiliary officers. Of the 107 sworn police officers, some 90 are road officers. And when it comes to crashes, Sully had 1,297 – the county's third-largest amount with damage in excess of $1,500 and/or with injuries.
"That's because the Sully District has some major roadways," said Blakley. "In 2012, we had three accidents with fatalities, four in 2013 and two in 2014 – at Route 29 and Trinity Centre, and at the Fairfax County Parkway and the ramp to Braddock Road. We average about 30 in the county." He also noted that Sully's number of alcohol-related crashes decreased 28 percent in the last three years.
Sully officers wrote 6,275 incident reports – the least of all the stations. "Mount Vernon, the busiest station, wrote 10,000," said Blakley. "But it has more staffing in a smaller area than we do."
"We made 3,809 arrests and are in the middle of the stations in this number," he continued. "In Sully, there was a 9.2-percent increase in 'Group A' offenses – arson, assault, drug, homicide and embezzlement. We also saw offenses involving BB guns, destruction of property and larceny – especially in thefts of auto parts [and other items] from unlocked cars. The county as a whole had a 2.5-increase [in major crimes]."
Blakley said counterfeiting and forgery cases are slightly up, and financial and computer crimes are especially on the rise in Fairfax County. "The police are working 6,000 [of these] cases a year," he said. "And they're difficult to solve and make an arrest if they're done by someone in another country."
He said Sully burglaries were up 52 percent. "We had 111 incidents in 2014, but our closure rate is above the national average," said Blakley. "So we're planning to deploy our crime-scene detectives to follow up more aggressively. We very rarely see nighttime burglaries – they're mainly in the daytime while people are at work. Or they'll work in pairs, with one person distracting an elderly person, while someone else breaks into their home or garage."
Vandalism in Sully rose from 698 offenses in 2013 to 780 in 2014. "But this was because of the 168 windows that got shot out by BBs," said Blakley. "It was juveniles and we caught them."
Embezzlement and fraud cases increased from 248 to 331, and larceny and theft jumped from 977 cases to 1,126. "It was mainly larceny from unlocked vehicles, which is our number-one problem," said Blakley. "Vehicle thefts were also slightly up."
Robberies – stealing from people – rose 45 percent, going from 20 cases in 2013 to 29 in 2014. Blakley attributed it to street crimes involving 15- and 16-year-olds stealing each other's shoes and cell phones."
Weapons violations – everything from BB guns to concealed weapons – increased from 38 to 55. "All in all, we had 3,500 'Group A' offenses; only the Reston station had less," said Blakley. "So we're still a safe community and we can account for the crime increases we did have."