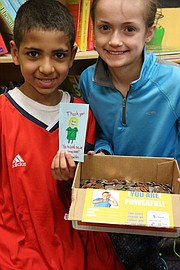 With the support of family, friends, and teachers, the students of Douglas MacArthur Elementary were able to raise $8,443.17 during their three-week Pennies for Patients campaign. MacArthur students collected pennies, nickels, dimes, and quarters to benefit the work of the Leukemia and Lymphoma Society.
This year's Pennies for Patients drive saw hard work by all students. In particular, two students and one classroom went above and beyond the call. Third grader Ronaldo Diaz-Paz began saving his coins at the end of last year's drive. Saving pennies, nickels, dimes, and quarters, Ronaldo donated $349.50 to help others in need. Fourth grader Lily Krakowski took the fight online, raising $385.15 through online donations from Florida to California. Whitney Greisinger's 4th grade class raised more than $400 in the first week of the drive. The class increased its goal to $600 then increased it again, and again, and again, donating $1,034.20 to the Pennies for Patients campaign.

Each year the Pennies for Patients program brings together over 12 million students from across the country to help find a cure for leukemia, lymphoma, Hodgkin's disease and myeloma, and improve the quality of life of patients and their families. The Leukemia and Lymphoma Society funds lifesaving blood cancer research around the world and provides free information and support services.
The Douglas MacArthur SCA is looking for local businesses to partner with next year to make the donation drive a bigger success. If a business is interested in providing matching donations during next year's drive, contact SCA sponsor Matthew Holland at matthew.holland@acps.k12.va.us.