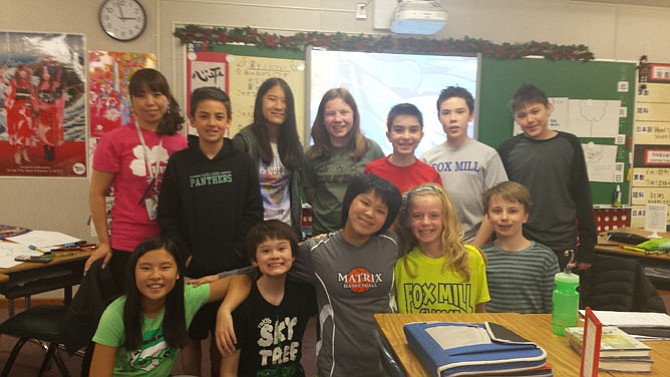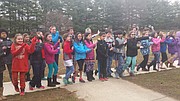 On a morning not too long ago, students at Fox Mill Elementary School experienced an exciting opportunity to meet the members of Aun-J Classic Orchestra from Japan. To thunderous applause and an enthusiastic ohayoo gozaimasu from the students, the group brought traditional Japanese music with a modern feel to the school for all the students to hear. The group also performed at the D.C. National Cherry Blossom Festival opening ceremony held on March 21.
In addition, fifth and sixth grade students from Fox Mill Elementary performed the national anthems of Japan and of the United States, in Japanese and English, respectively, at the ceremony.
"I had to sing the Japanese national anthem in front of these famous Japanese people," exclaimed sixth grader Delia Hartman, one of the students who performed. "It was really exciting being able to perform at the Warner Theater."
"Every year we've been to the Cherry Blossom Festival, but I never imagined myself performing in it," said Zen Smith, a sixth grade student in Fox Mill's JI Program who sang at the festival.
Based on school-wide auditions, a group of 29 students were chosen to perform at the Warner Theater, and directed by music teachers Erin Rosa, Keiko Endo and Laura Alderson.
"It was really cool because I always dreamed of being on the stage…It was work to be in the show," said sixth grader Natalie Grenfell.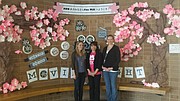 This opportunity was a collaborative effort made possible by Noriko Otsuka Vankeuren , a sixth grade JI Teacher at Fox Mill, and connections with the Aun-J Classic Orchestra, the Embassy of Japan, National Cherry Blossom, Inc., and Happi Enterprises, LLC. The president of Happi Enterprises in Arlington proposed that students at Fox Mill sing the Japanese and American national anthems at this year's Cherry Blossom Festival, a first in the school's history.
The collaboration also resulted in bringing world-famous group, Aun-J Classic Orchestra, to the elementary school, where they performed for the students and planted three cherry trees, which now sit in the front of the school.
"We are hoping to build close relationships in the coming years by exchanging more video/letters, skyping and, hopefully, visiting each other's school," said Vankeuren. Currently 44 percent of students are enrolled in the JI Program at Fox Mill for the 2014-2015 school year, and several students expressed plans to continue their studies in middle school and even high school.
Their study of Japanese is providing students with extensive exposure to and knowledge of the culture of Japan.
Students from Fox Mill will have two separate performances this month during the Cherry Blossom Festival. On April 11, fourth graders will sing in Alexandria at 2 p.m., at 4603 Green Spring Road. And at 2:30 p.m. the fifth graders will perform at Sakura Stage in Washington, D.C. These performances are free and open to the public, and they would love for all to attend.
To find out more about what's happening during the National Cherry Blossom Festival, you can also visit http://www.nationalcherryblossomfestival.org/.