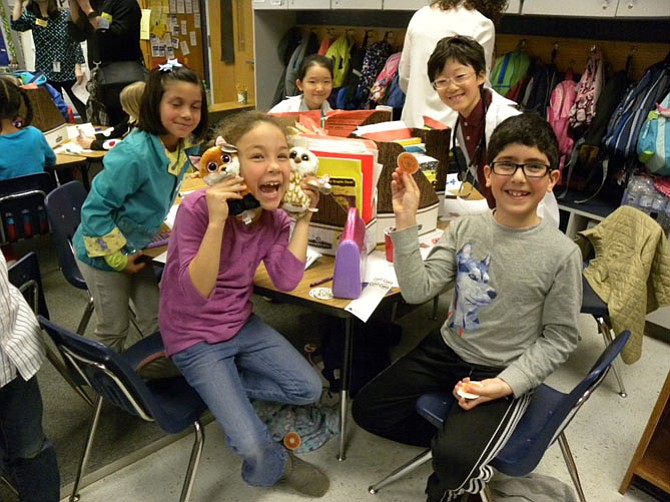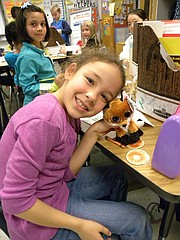 Students in Future Business Leaders of America spent the day teaching Westbriar Elementary School students in Vienna about financial literacy during "JA in a Day." Junior Achievement of Greater Washington partnered with FBLA in Marshall High School in Falls Church to bring the program to the elementary school children. Both groups of students were encouraged to dress up in the professions they want to pursue.
While the younger children donned lab coats, soccer kits and stethoscopes, the high school students wore name tags with labels such as pediatrician, financial planner, and Ambassador to Russia.
Junior Anya Karaman said that the program inspires younger students by modeling behavior. "They get a semblance of an idea of what they want to be when they grow up," she said.
"Elementary school kids can see themselves in the high school students," said Caitlin Hennessy, education manager at Junior Achievement of Greater Washington.
In Michael Hunt's fourth grade class, senior Twinkle Gera taught about characteristics and traits of entrepreneurs and inventors. She and other FBLA members trained for weeks on how to teach the grade-specific content, manage the classroom and engage the students using materials in kits provided by Junior Achievement.
The course is tailored for each grade--from a storybook lesson for kindergartners to the global marketplace for sixth graders.
In Alexandra Lujan's second grade class, Marshall High School students Sean Hoffmann and Mpesa Kapinka focused on the community and its businesses and workers. The second graders were given professions in the community and were also tasked with working at the local doughnut shop. Working in groups, they learn about cooperation and production.
Later on in the activity, the class will learn how much it takes for individuals and businesses to maintain a community. "None of the professions handed out include government jobs. When the doughnut shop catches on fire, they will learn about taxes," said Hennessy. "It's really hard to get them to pay taxes."