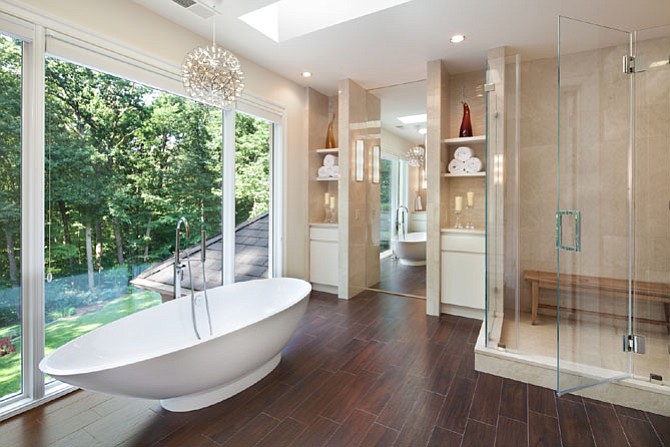 A minimalist yet elegant design that includes a wall of glass with dramatic views of a woodsy landscape received top honors recently. Anthony Wilder Design/Build, in Cabin John, received a national Contractor of the Year (CotY) award from the National Association of the Remodeling Industry for transforming a bland bathroom into a serene spa retreat.
In designing the luxurious space, the design team added a dressing area and improved the traffic flow by repurposing the existing square footage.
"The clients wanted to transform their master bathroom into a serene, thoroughly modern, chic space to match their transitional style," said Wilder. "They wanted a minimalist approach to the design while retaining storage space, adding square footage and natural light and finding a solution to mold and ventilation problems."
The bathroom's flooring is consistent with dark Brazilian Walnut wood flooring found throughout the home. "The clients love the look of dark, wide-plank hardwood flooring," said Wilder. "A more practical solution was a dark brown, wood grain porcelain tile."
The result is a sleek look and a functional and practical surface that is less slippery and more resistant to scuff marks than some flooring.
Floor to ceiling glass offers a dramatic view of the home's rustic landscape and creates continuity between the interior space and the outdoors. "The textures and colors of the exterior formed the basis for the aesthetic of the bathroom," said Wilder. "The color of the tile is neutral in order to frame the outdoor view without being distracting."
A view of the outside can be had from the large, free-standing bathtub, while the patterns and neutral colors of the tile and stones help unite the exterior and interior spaces.
Each area of the bathroom is topped with recessed lighting. "All lights are on dimmers providing the opportunity to customize the effect at any given time," said Wilder.
Marian Vaias was the architect for this bathroom and Shannon Kadwell was the interior designer.