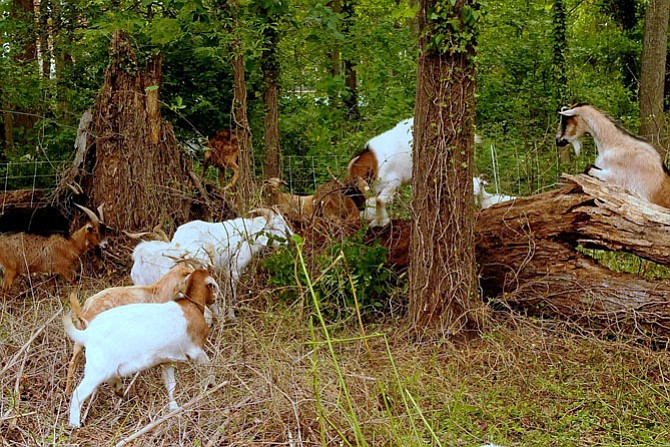 See more goat photos on Facebook.
The Hollin Meadows Swim and Tennis Club welcomed 60 goats to its property to graze on invasive plants and vegetation on May 11. Funded in part through the Neighborhood Enhancement Partnership Program grant from Fairfax County, the goats are part of an environmentally responsible solution to remove plants that are strangling trees and threatening wildlife on the pool property.
The goats spent a week on the property clearing four acres of invasive plants around the pool area and tennis courts.
"We're fortunate that our pool is enveloped by beautifully mature trees and foliage. But, nature doesn't have a vacuum to clean up the invasive plants that spread quickly and endanger the habitat, trees and soil. Rather than using dangerous chemicals, tedious manual labor or machinery, we're hosting the goats to get the job done naturally," said Michael Johnson, Hollin Meadows Swim and Tennis Club's grounds chairman. "We're taking the project one step further by partnering with Hollin Meadows Elementary School. Students will visit HMSTC to observe the goats in action and learn about environmentally responsible land management solutions," Johnson said.
Goats have been used for centuries to clear vegetation and often are described as eating machines. In recent years, there has been resurgence of goat use in North America for what now is called conservation grazing. Goats often can reach places that mowers cannot and consume a wide range of unwanted vegetation native to the east coast including Poison Ivy, Kudzu, Oriental Bittersweet, Ailanthus, Multiflora Rose, Japanese Honeysuckle, Mile-A-Minute and more.