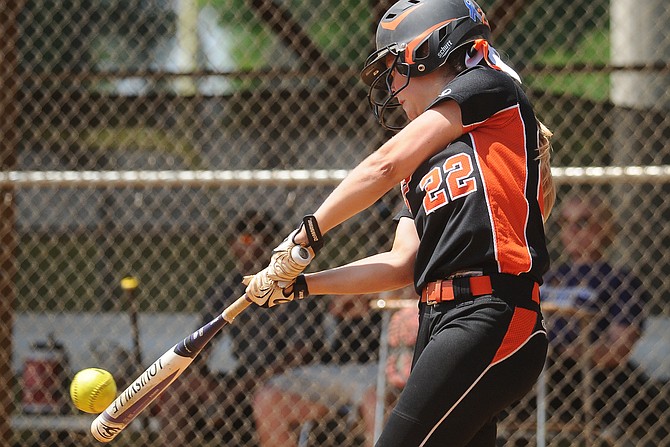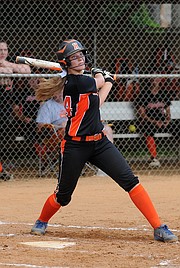 When Bonnie Schipper smashed a laser of a home run in the top of the fourth inning on Saturday afternoon, members the Hayfield softball team gained confidence they could pull off the upset.
When Brittany Wieland launched a solo homer to left-center in the eighth inning, the Hawks were on the verge of knocking off the team with the best record in the region.
When Lake Braddock senior Amanda Hendrix stepped to the plate with the tying run on base and two outs in the bottom of the eighth, Hayfield coaches had a decision to make: pitch to the slugger who earned all-state honors in 2014 and tied Saturday's game with an RBI double in the sixth, or walk her.
Hayfield head coach Ron Giovannucci considered walking Hendrix. Assistant coach Dave Neuhart suggested otherwise. With a trip to the 6A North region quarterfinals on the line, they called for freshman pitcher Avery Neuhart, Dave's daughter, to go after the Bruins' three-hole hitter.
"My mindset was to get her a ball where she could hit it," Avery Neuhart said, "but [have] it not go over the fence."
Neuhart would do more than keep Hendrix from hitting the ball out of the park --- she kept her from putting it in play.
Neuhart struck out Hendrix, putting the finishing touch on the Hawks' 2-1, eight-inning victory over the Bruins in the opening round of the 6A North region tournament at Lake Braddock Secondary School.
Lake Braddock, a 2014 state tournament qualifier, won its third consecutive Conference 7/Patriot District championship this season and entered the region tournament with an 18-1 record, with its lone loss coming to private school state champion Bishop O'Connell. Hayfield, the No. 4 seed from Conference 6, entered the game with six losses, had failed to qualify for regionals the previous season and hadn't won a regional tournament game since 2012.
The Hawks pulled out the extra-inning win, regardless, becoming the first team from the 6A North region to beat Lake Braddock since South County defeated the Bruins in the 2014 region championship game.
"I've been doing this [for] 18 years," Giovannucci said, "but this is probably the best team I've ever had. We've got nine starters and they're all ball players --- serious ball players."
Hayfield will travel to face Centreville, the No. 2 seed from Conference 5, at 6:30 p.m. on Monday in the region quarterfinals.
"This kind of win is huge," said Schipper, a senior catcher and team captain. "We're in a conference right now where every game is like we're neck and neck every single time, so beating a team like Lake Braddock shows that we really have to be respected in the region."
The Hawks entered Saturday's game with something to prove. Hayfield spent four seasons in the former National District, which was considered the weakest district in the former Northern Region. From 2010-2013, Hayfield compiled a record of 79-17-1 and won three National District championships, but never advanced past the regional quarterfinals. In 2013, the Hawks won their first 23 games before losing to Langley in the opening round of the regional tournament.
Hayfield made the move to Conference 6 in 2014 as part of the VHSL's six-class realignment. Facing tougher competition, the Hawks finished 11-10 and failed to qualify for regionals, losing to Madison in the first round of the conference tournament.
This year, Hayfield finished the regular season with a 15-5 record, qualified for regionals with a 3-1 victory over Langley in the conference tournament quarterfinals and nearly upset top-seed McLean in the semifinals, losing 1-0.
On Saturday, Hendrix, who is also a standout pitcher, and Neuhart traded zeros early in the game until Schipper, who will play softball at Columbia University, led off the top of the fourth inning with a solo homer to left field.
"Our team really doesn't get a lot of attention," said Schipper, a second-team All-Conference 6 selection and four-year varsity player. "We've been in the National District for a long time. … We had a young team last year and didn't do too much and this year we had everybody come back. We've had a lot of people that have been having great power hits like that [fourth-inning home run], so I guess mine … got everybody confident, knowing we could beat this great team that everyone praises."
Hayfield led 1-0 until the bottom of the sixth, when Hendrix ripped a two-out, game-tying RBI double to right-center. Neuhart didn't lose her composure, however, retiring Lake Braddock junior catcher and Villanova commit Caroline Jones with a runner in scoring position to get out of the inning.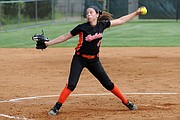 "This year, I've also really learned how to pitch through tough situations," Neuhart said, "and trust my teammates."
With two outs in the top of the eighth, Hayfield sophomore second baseman Wieland, a first-team all-conference selection, smacked a solo homer to left-center, giving the Hawks a 2-1 advantage.
"We knew that we wanted our name out there and we wanted to [improve] our reputation," Wieland said, "so we knew that we couldn't give up [after losing the lead]. We had to keep fighting."
A one-out walk and a two-out wild pitch gave Lake Braddock a runner in scoring position in the bottom of the eighth, but Neuhart ended the game with a strikeout.
"This gives us some credibility," Giovannucci said. "We always had that [National District] baggage we had to carry around but now we've proven ourselves that we're a top team."
Neuhart, a second-team all-conference selection, earned the win in the pitcher's circle, allowing one run on four hits in eight innings. She walked three and struck out six.
Hendrix suffered the loss, allowing two runs on five hits in eight innings. She walked one and struck out nine.
Hayfield's Schipper went 2-for-3 at the plate. Wieland was 2-for-4, and sophomore shortstop Sienna Williams, a second-team all-conference selection, finished 1-for-4.
Hendrix went 1-for-4 for Lake Braddock. Freshman center fielder Eleanor Mataya, freshman third baseman Ally Kurland and senior right fielder Emma Rakowski each had a hit.
"It's a huge win for us because being a No. 4 seed, not too many people expected us to be here and [nobody] expected us to beat what everybody was telling us was the best pitcher in the region," Giovannucci said. "It's huge for us. These kids are ball players. All of them are serious ball players. Usually … we have maybe four, five kids who are serious, then we've got another four who are fringe players, but I've got nine players here that can play ball."