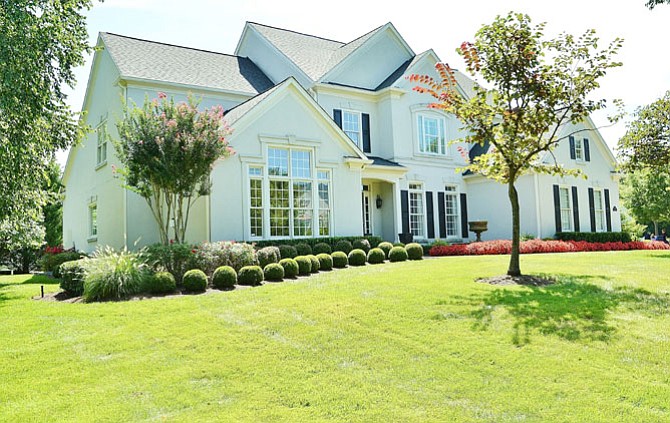 The annual Holiday Homes Tour of the McLean Woman's Club moves to west McLean this year, with tour houses in three choice neighborhoods: McLean Hundred, Woodside Estates and Millwood. The three neighborhoods are distinguished by large, elegant houses on half- to one-acre lots and are easily accessible from Lewinsville Road and other major arteries. The homes will be festively decorated in accordance with owners' wishes, and music of the season will be featured in some homes or nearby. Set for Thursday, Dec. 3, from 10 a.m. to 3 p.m., the tour will coincide with a boutique, also sponsored by the Woman's Club, from 9:30 a.m. to 3:30 p.m., at Historic Pleasant Grove Church, 8641 Lewinsville Road, McLean. Tickets for the tour are available at Mesmeralda's Ltd., of McLean, 1339 Chain Bridge Road; Karin's Florist Inc., 527 Maple Ave., East, Vienna; and Great Dogs of Great Falls, 9859 Old Georgetown Road, and also will be available at the tour homes and the boutique on tour day. The cost is $25 before Dec. 3 (the day of the tour) and $30 on Dec. 3. There is no admission charge for the boutique.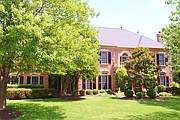 Tour Houses
Three of the tour homes are in McLean Hundred and Woodside Estates, subdivisions off the western end of Lewinsville Road. The fourth home, in Millwood, is just off Swinks Mill Road, which runs from Lewinsville to Old Dominion Drive and ends at Georgetown Pike. A map of the tour area can be found in the tour booklet/ticket. Ample street parking is available near each of the houses. For ease of reference, the homes are designated Houses 1 through 4 here and in the tour booklet/ticket. Specific addresses also appear in the tour booklet.
House 1, at the south corner of Mayhurst Blvd. and Lewinsville Road heading west, and House 2, on Woodhurst Blvd., a left turn off Mayhurst Blvd., are both in McLean Hundred. They are large, elegant homes of conservative design, built in the late 1990's, but are strikingly different. House 1 has a light-colored exterior with beautiful but restrained landscaping and looks out on a busy intersection, while House 2 has a long, red-brick exterior shaded by large, old trees and sits on a cul-de-sac with a small park. House 1 has undergone major changes, including the addition of a bedroom, a second kitchen, extra fireplaces and a new walkout basement. The home contains many antique furnishings and rugs, custom draperies and fine artwork. House 2 has also undergone major alterations, in part to create a greater sense of interior space with the addition and expansion of multiple windows and doors. The foyer and first-floor rooms were extensively remodeled and are said to suggest contemporary California style. The home reflects an eclectic taste in original art, including photography by the hobbyist owner.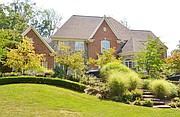 House 3 is in Woodside Estates, accessed by Woodside Drive, which branches off the north side of Lewinsville Road about a half-mile west of House 1. House 3 has a large, impressive, brick-and-stone façade and is sited on an attractively landscaped 1.2-acre lot. The façade uses conventional architectural elements in an unusual way, and the resulting shape seems complemented by the undulating landscaping. This is another case of a newer home (built in 2005) being expanded and augmented. Additional bedrooms and baths were created, for a total of six bedrooms and six full and three half-baths. A sizeable recreation room was built, a 368-square-foot swimming pool was added in the back and a pool house was constructed. The owners are fortunate to be near Woodside Lake, a private, seven-acre, spring-fed pond, where they have enjoyed fishing and boating over the years.
House 4 is on Carlton Place, just off Swinks Mill Road. (Follow Lewinsville Road west from Route 123, turn right on Swinks Mill Road, and go north, crossing Old Dominion Drive, to a left turn at Carlton Place. The house is the second one on the right). It is perhaps the largest of the tour houses, with over 15,000 finished square feet on four levels. With a symmetrical façade but an unusual window and roof configuration, the home can be said to be "contemporary." There is a two-story atrium foyer, steps on either side of a fountain to an upper lobby and stairs to the next level. The main level also has a large lobby and a formal living room and dining room. An elevator serves three levels. The home has five bedrooms, three of which are master suites. There is a large recreation room with a full kitchen and a 1,250-square-foot outdoor pool with an adjacent full bath.
Homes Tour Boutique
The Homes Tour Boutique will be held at Historic Pleasant Grove Church, 8641 Lewinsville Road, McLean, about a quarter-mile west of House 1. It will feature holiday items, a variety of gifts, jewelry, scarves, handbags, drinks and desserts, baked goods, tour tickets and a silent auction. The restored church dates from the late 1800s and follows the Carpenter Gothic style used for Virginia country churches. A museum dedicated to the founders is on the lower level and displays a unique collection of late 19th- and early 20th-century household furnishings, tools, photographs and memorabilia. Off-street parking is available.
All proceeds of the Homes Tour and the Homes Tour Boutique will be donated to local charities and nonprofits, including Alternative House, Fisher House, the Wounded Warrior program, Capital Caring, Share, Inc., the McLean Symphony, the McLean Project for the Arts and the McLean Volunteer Fire Department, as well as used for scholarships and education. The honorary host for both events will be Bill DuBose, McLean financial planner and advisor.
For more information call 703-556-0197 or visit www.mcleanwc.org.