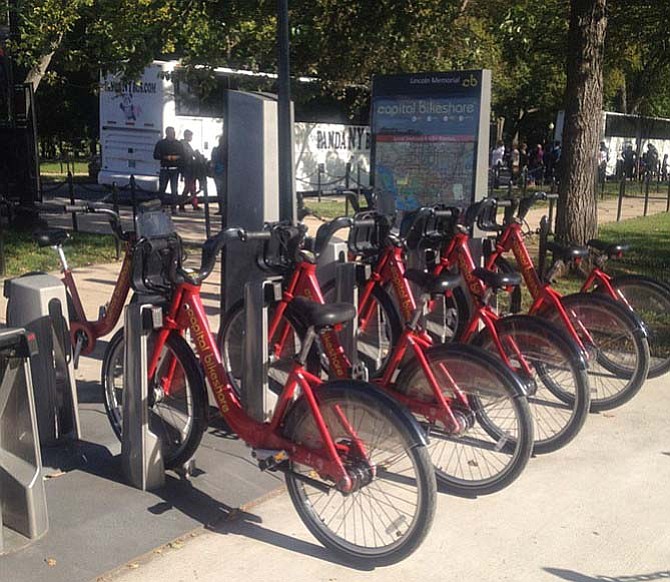 The Fairfax County Department of Transportation (FCDOT) hosted a community meeting on the Reston Bike Share Project Thursday, Oct. 29, at Dogwood Elementary School, in Reston. It was an opportunity to meet Adam Lind, the county's new Bicycle program manager in the Capital Projects and Traffic Engineering Division. Lind has been with FCDOT since 2012 and replaces Charlie Strunk who retired in January 2015. Lind gives credit to his predecessor. "We are going to continue his work, and make bikeshare a reality," said Lind.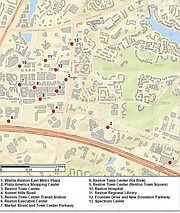 The Reston area has many bicycle enthusiasts, and over 1,000 Fairfax County residents are members of Capital Bikeshare. Capital Bikeshare (also abbreviated CaBi) is a bicycle sharing system that serves Washington D.C., Alexandria, Arlington and Montgomery counties. The Capital Bikeshare system is owned by the participating jurisdictions and is operated by Motivate, a company based in Brooklyn, NY. As the Washington, D.C. area has the worst traffic gridlock in the United States, transportation alternatives have been welcome.
Fairfax County's transportation department is contracting with Capital Bikeshare to install thirteen stations at locations including Plaza America, Reston Regional Library and Reston Hospital. The initial system will have 130 bikes available to rent. In addition to paths and trails which cross through Reston, there is also the W&OD Trail which runs through Northern Virginia, including parts of Reston and Herndon. Area residents look forward to the opportunities a bikeshare may bring.
"I believe bike share will be part of the mobility solution for Reston as it continues to expand with additional businesses and residents. Reston can serve as a model to all other urban centers in the DMV on how to integrate all modes of transportation to serve its community," said Mark Ingrao, president and CEO of the Greater Reston Chamber of Commerce. When complete, Reston will have Fairfax County's first bikeshare system.
RESIDENTS of the area believe bike sharing in Reston will be a great option for getting around, especially for the Silver Line Wiehle–Reston East station and Reston Town Center. The first phase of the bikeshare will be focused on the greater Town Center area, north of the Dulles Toll Road, which has a high density of residential and commercial development. It will help residents in the Town Center area access the Silver Line Metro station by bike. "I see it as a supplement to transit, personal transit in a way," said Bruce Wright, a resident of Reston and Chairman of the Fairfax Advocates for Better Bicycling.
"I'm glad the county is joining other local jurisdictions in using Capital Bikeshare. As a Capital Bikeshare member I'll be able to use the system without having to join another, separate system. I'm looking forward to when the system is more widely distributed in places like South Lakes Village Center, Lake Anne, Hunters Woods, and North Point," said Wright.
Location such as Arlington County have been pleased with their bikeshare operation. "Arlington County has been extremely happy with the success of Capital Bikeshare. Having been a part of the system from the beginning in 2010 when we opened the first 14 stations in Crystal City, we have grown our system to 81 stations around the county and have more than 3,000 residents as annual members. There were nearly 250,000 Capital Bikeshare trips taken in Arlington in the past year and it has proven to be a vital part of our transportation system," said Henry Dunbar, BikeArlington Program Director.
Adam Lind said the potential launch date may be in late 2016, and the program will consider expanding to Herndon, Tysons, Merrifield, and Falls Church. Herndon neighbors Reston, and the W and OD trail runs right through the Town of Herndon, home to over 23,000 citizens. "I think bikeshare is a great addition and hope to see it expand to Herndon Station when the metro opens," said Town of Herndon Mayor Lisa Merkel. Phase 2 of the Metro Silver Line is scheduled to open in 2020, with a stop in Herndon.
The Transportation Alternatives Program (TAP) provides federal funding to transportation alternatives beyond highway construction. Eligible projects include bicycle and pedestrian facilities, complete streets and safe routes to schools. Funding is often split 80 percent federal and 20 percent state or local match from the sponsoring organization. Local jurisdictions also pay for any cost overruns. Regarding to CaBi in Reston, TAP funds would help build concrete station pads and purchase the bicycles.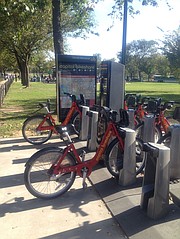 THE ANNUAL COST to operate all 13 stations is expected to be $400,000. The bicycles and the stations are projected to cost $740,000.
If FCDOT uses a combination of local and federal funds, the stations might arrive sooner. Splitting funding may let the county begin building the concrete pads with local funds. The concrete pads are the foundation of the stations and can be relocated or moved depending on construction or usage patterns. The TAP funds would be used to purchase the equipment. Some sites such as the proposed bikeshare station at Reston Hospital will require coordination from landowners. The design will not go through Reston Association's Design Review Board as no stations are on RA land.
"Bikeshare is a critical, and strategic, outcome associated with Reston's initiative to be a truly sustainable community. It's an idea that truly fits with how we want to live our lives here in Reston. It brings the obvious benefits of health, reducing traffic congestion, and even lowering emissions. I also believe a Reston bikeshare program will improve the value of our properties, generate more retail business interest, and it will definitely open up areas of our community that do not have access to good transportation solutions," said Reston Association director and board member Ken Knueven.
"For a minimal investment, the community receives tremendous returns that are efficient, scalable, and market-driven," said Knueven. "I welcome its arrival and will be an active user. I hope my fellow Restonians will agree with me…let's get rolling!"