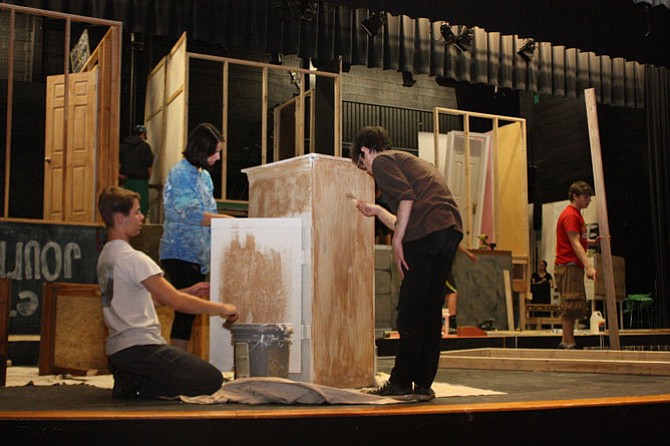 South County High School Theatre department prepares to bring the community more comic relief at the start of this festive season, with the presentation of its fall production of "Jabberwock" at Dale S. Rumberger Auditorium, Nov. 12-14.
The title of this comedic play comes from the poem "Jabberwocky" by Lewis Carroll. Written by Jerome Lawrence and Robert E. Lee in 1974, the play is based on the early 20th-century writings of American humorist James Thurber. Set in the fictional city of Columbus, Ohio, Jabberwock tells the story of teenager Jamie Thurber and one evening in the life of his crazy family, just as the country was preparing to enter World War I.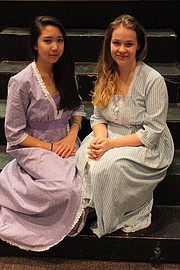 "The play was chosen because it offers a large number of roles and is just plain fun for everyone involved," said South County drama teacher and show director Kathie McCormally. Each of the main characters is double-cast "to allow more stage time for the students," she added.
The production includes the comedic talents of juniors Ian Welfley and Matt Wixted (double-cast as Jamie Thurber), senior Anastasia Kalil and junior Anna Luczynski (Jamie's mother Mary Agnes), seniors Kyle McKnight and Joe Bright (father Charley), senior Anthony Korkolis and sophomore Zach Schuneman (older brother Ray), sophomores Nick Ferlazzi and Spencer Kipps (younger brother Herman), and senior Ethan Schulze and junior Ray Martin (grandfather).
McCormally utilizes an experienced student tech crew to pull off some "tricky technical requirements," including turning an electric golf cart into a car to be driven on stage and a three-story house set that changes from gas to electric lighting at intermission.
The show runs Nov. 12 and 13 at 7 p.m., and Nov. 14 at 2 p.m. and 7 p.m.
General admission is $10 and $8 for senior citizens and students. Advanced tickets can be purchased at www.southcountytheatre.org.
The Dale S. Rumberger Auditorium at South County High School is located at 8501 Silverbrook Road, Lorton.