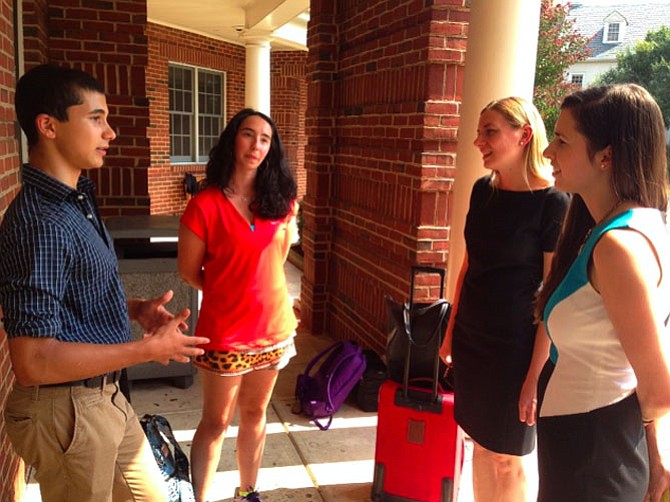 Some local school children are helping adjust the way educators view school environments. In fact, they received national recognition for their efforts.

Students at St. Andrew's Episcopal School in Potomac were part of a study that examined the way happiness affects motivation and academic achievement. It was conducted as a result of a partnership between St. Andrew's Center for Transformative Teaching and Learning and Research Schools International.
"We have been on this journey to dig deep to see how research can reform, inform and validate our work with each student," said Glenn Whitman, director of the Center for Transformative Teaching and Learning. "The school has truly believed there is a correlation between the happiness and the achievement of its students, even in a strong, challenging and rigorous academic environment."
The study addressed the way happiness affects academic achievement, and school factors that lead to student happiness. Research Schools International researchers Christina Hinton and Lauren Schiller conducted the study and wrote about their findings for Time Magazine.

"Research shows that the best predictor of happiness is not income, gender religion or even health, but rather relationships," Hinton said in a statement. "St. Andrew's provides a nurturing community that teaches students to build caring, supportive relationships. There is nothing more essential to students' well-being and happiness than this."
Data collected and used for the study included surveys from students and feedback from teachers.
"When schools talk about their students being happy that might be interpreted by outside communities that the school is less academically challenging," said Whitman. "That is an initial cultural response that we want to debunk. Our academic program is challenging and relevant. Kids feel happy and motivated when they can connect meaning to what they are learning."
The study revealed that, on average, students who reported being happier had higher grades. Specifically, a statistically significant correlation was found between happiness and students' GPAs from elementary school through high school. The study also found that the quality of students' relationships with teachers and peers was a good predictor of their happiness.
"It is important that teachers are approachable so that students feel that they can go to them when they're not understanding a concept or for additional support," said child psychologist Stacie Isenberg, Psy.D. "The teacher (can) look at an individual student's way of learning and help them with that in mind."