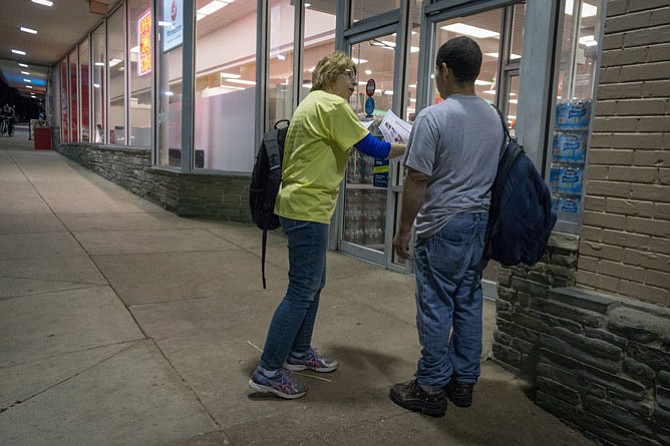 Clergy and lay leaders celebrated the success of a three-day non-partisan, interfaith voter turnout drive that generated an increase in turnout in two particularly low-voting precincts here, as well as more than 1,300 individual conversations with voters about the power of civic engagement.
The turnout drive by VOICE (Virginians Organized for Interfaith Community Engagement), a multi-faith citizens power organization, cited a 24 percent increase in voter turnout in Precinct 30 (Nauck neighborhood) from the November 2011 election — the last off-year election with a comparable ballot. It also led to a 12 percent increase in turnout in Precinct 43 (Arlington Mill neighborhood), VOICE leaders said, noting reports indicating that turnout countywide was at most 1 percentage point higher from 2011.
The voter turnout campaign targeted primarily infrequent voters, enlisting more than 100 volunteers to knock on doors, talk to voters at bus stops, and call voters Nov. 1-3. The aim was to raise turnout by at least 5 percent from November 2011 in these two precincts.
Noting that VOICE exceeded its goal almost five-fold in Precinct 30 and more than doubled it in Precinct 43, the Rev. Dr. James E. Victor, Jr., of Mount Olive Baptist Church said, "We learned that, when you make the effort to truly engage people around their hopes and dreams, Arlington's residents will respond and vote."
In Precinct 30, turnout this year was 619, according to unofficial returns, compared with 498 in 2011, and in Precinct 43, it was 433 versus 386 in 2011.
VOICE leaders selected Precincts 30 and 43 to test voter turnout strategies this year because both have among the lowest voter turnout in off-year elections such as this, and both are areas where VOICE already has a presence and would like to deepen its connections with residents.
The Rev. Linda Olson Peebles of the Unitarian Universalist Church of Arlington said the lessons from this voter turnout campaign will serve VOICE well in future elections: "Our faith traditions teach us the transformative power of coming together in community, and our community organizing teaches us the influence that citizens who engage can have on elected officials' decisions. We look forward to continuing with organized voter participation campaigns to ensure that everyone's voice AND vote can count."
See www.voice-iaf.org.