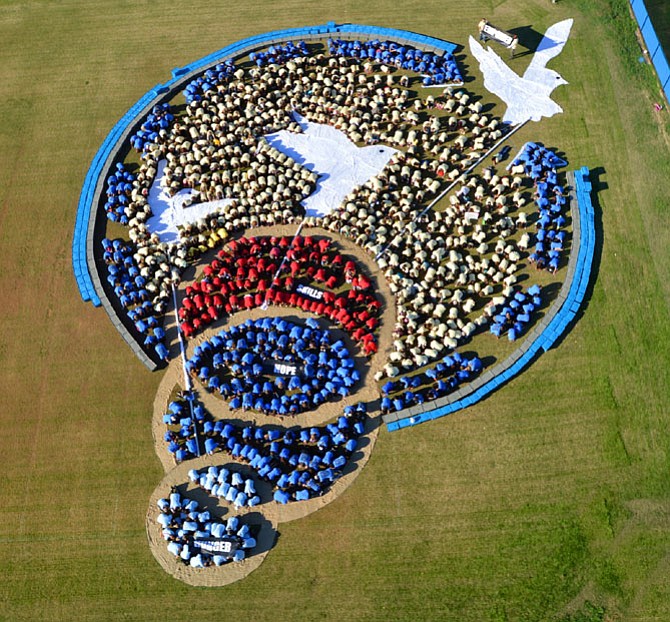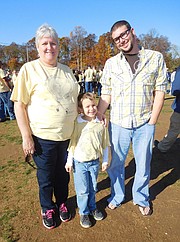 The power of community was on full display Sunday afternoon as some 1,500 people came together on a Fairfax High athletic field to help Our Daily Bread (ODB) feed local families in need.
Wearing red, blue and yellow T-shirts, they created a living design to take a stand against hunger in Fairfax County and were photographed from 100 feet up by Art for the Sky's Daniel Dancer. But even more importantly, they brought with them 11,143 pounds of food (valued at about $19,150), plus $3,050 in grocery-store gift cards and cash donations.
"We are so thankful for everyone's generosity in helping their neighbors in need," said ODB Executive Director Lisa Whetzel. "Our hope is that this event will bring awareness to the fact that, in our very affluent community, we have neighbors who suffer from hunger insecurity — meaning they don't know where their next meal is coming from. We want to ignite the conversation about why people are hungry. And we'd like to inspire community members to think about what they can do to help create an environment where everyone can thrive."
The Nov. 8 event was ODB's fifth annual Complete the Circle FoodRaiser and was held jointly with the Lorton Community Action Center (LCAC). The donated food, cash and gift cards will help feed the people served by both organizations.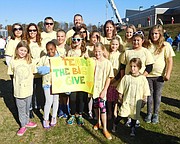 Participants included individuals, families, companies, faith congregations, Scouts, youth groups and various community organizations. And, said ODB spokeswoman Heather Webb, each person contributed at least three, nonperishable food items or a grocery gift card to "complete the circle of giving and hope."
The event attracted people from all over the county, as did the festivities prior to the photo shoot. Young musicians from the School of Rock in Vienna entertained, local nonprofit Parties 2 Inspire led children's activities and Cox Farms in Centreville provided refreshments.
Among those taking part in the event were Centreville's Brian Clifford, son Mason, 6, a first-grader at Centre Ridge Elementary, and one of Mason's SACC (School Age Child Care) teachers, Nancy Holsopple. All were on a 25-member team from the school's SACC program. "Mason was interested in helping out, so we wanted to foster that in him," said his dad.
"This is something our entire SACC cluster does, so we wanted to participate," said Holsopple. "In SACC, we try to instill in our kids a sense of community. So we collected almost 100 different food items and brought them with us. But together, all eight Centreville SACC clusters collected 800 items to donate."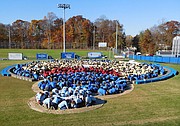 Stone's Cove KitBar, a restaurant in Oak Hill, also brought a team. "We support local nonprofits in the community," said team member Sonia Rana. "We made a financial donation."
Meanwhile, Vienna's Vince Curcio was part of a Fairfax/Centreville group of about 100 friends and family members called The Big Give. It's comprised of 18 families from Fairfax, plus four other groups, including 40 children and parents. "We collected 20 bags of food just in our 18 families," said Curcio on Sunday. "And before coming here today, we made lasagna and delivered it and some beverages to the Fair Oaks Fire Department."
"Then we gave food, a bed and toys for a companion dog belonging to SafeSpot of Fairfax," added his wife, Christie Curcio. "It helps abused children and provides a safe spot for them to go." The next stop for the members of The Big Give was ODB's FoodRaiser.
"We did this Complete the Circle event last year, too," said Christie Curcio. "It was my niece Hannah's birthday, and she wanted to do this for her birthday. We're doing it again this year to give back to our community because that's what Our Daily Bread does."
And Hannah, 11, was there on the field with her dad, Curcio's brother, Brian Silman of Little Rocky Run. He was participating in the FoodRaiser because "it's helping people within our community; we're making sure we're taking care of our own."
"People always need help and, if we're ever on the other end of it, I'd want people to help our family," continued Silman. "We have the ability to do so, and I want our children to see that it's important to help people who are in need."
Whetzel finds it "incredible to think that, in wealthy Fairfax County, there are 67,000 people who don't know where there next meal will come from. Many of them are children, and it's heartbreaking to think of how their parents must feel when they work so hard to make ends meet, but have to put their kids to bed with empty stomachs. Participating in Complete the Circle is a joyful way for community members to come together to be part of the solution to the very real problem of hunger and need in our midst."