It began about twenty years ago with a single question. Award-winning author Laura Elliott says the idea for her newest novel was first ignited when her daughter Megan, then a small girl, walked into the room one morning and asked her mother, "Did you know that the only Leonardo in all of the Americas is right here in Washington, D.C.?"
What came next was not a question but an urgent demand; a daughterly directive: "We've got to go see it. Today."
Elliott not only listened that morning, but she obeyed, and a few hours later they found themselves standing in the National Gallery of Art in Washington, D.C., totally transfixed by the real-life vision in front of them: the first portrait ever painted by Leonardo DaVinci. Both mother and daughter were mesmerized.
They knew that they were gazing upon the only DaVinci portrait to hang in a U.S. museum, and it took their breath away. The portrait itself depicts the young and beautiful Ginevra de' Benci, the wealthy, witty daughter of a prominent Florence family who posed for DaVinci in his early years and who served as the masterful artist's first muse.
FLASH FORWARD about twenty years, to today, as mother and daughter stand again in the National Gallery of Art – but this time, to discuss and celebrate the publication of Elliott's newest novel, "DaVinci's Tiger," a lush, historical romance which centers upon this singular, seminal portrait and tells the story of the intimate, unfolding relationship between the master and his muse.
Using the National Gallery as the symbolic backdrop to launch her exciting new novel, Elliott, a long-time resident of Great Falls, recently stood before a standing-room-only audience in the famed hall to discuss her work. Her daughter Megan, now a 26-year-old theater artist, served as researcher for the book and also fielded questions from the audience at the end of the event.
Clearly, Elliott has come full circle -- from that first moment when she laid eyes on the portrait a few decades ago, to today, as the best-selling author of a book on the same subject. And it was not just the powerful portrait that pulled her in – it was the story behind the portrait.
It still is.
In the novel, much of it based on real-life events from that rich period, Elliott offers up a vivid backdrop of Renaissance Florence, complete with passion, exquisite art, elaborate feasts, jousting, and finally, a love that defies categorization.
Painstakingly researched (Elliott traveled to Florence twice and spent years poring over almost every last detail of Ginevra de' Benci's life), the New York Times best-selling author weaves a story about this ground-breaking portrait and all of the fury and passion that surrounded it.
"The portrait itself was revolutionary," she says in a quiet voice filled with respect and awe, "because before this, women were always depicted by artists as bejeweled, exquisite objects, always gazing out at nothing, staring off vacantly into space."
It was DaVinci's portrait of Ginevra, Elliott explains, which broke new ground and set the art world on its ear by depicting a woman looking straight ahead, her gaze direct, wearing a relatively unadorned gown and a solid facial expression – a bold and deliberate decision that firmly established the masterful painter as a force of artistic honesty and change.
But this beautiful portrait also broke other new ground: In those times, women were looked upon as talentless, voiceless, delicately domestic creatures, so submissive that they could not even pose for a portrait without assuming an indirect, silhouetted position.
That de' Benci posed so boldly was one thing. But that she was also a high-spirited, free-thinking, highly talented poet was something else altogether.
Elliott describes how the beautiful de' Benci, trapped in an arranged marriage and forced to limit her creativity to domestic duties, fell in love with the artist as he painted her portrait. And although the mutual admiration ultimately ended in heartbreak, de 'Benci's story is inspirational because it shows how she defied convention during the Renaissance.
THE ACCOLADES for "DaVinci's Tiger" are already flowing in fast and strong:
Elizabeth Wren, New York Times best-selling author of "Code Name Verity," describes the new novel as, "an exquisitely detailed story of the passionate relationship between artist and muse. Beautifully painted."
Esther Eacho, an educator and avid reader, said "Laura's skill at bringing the subject to life is remarkable. Not only will the reader learn about DaVinci, but they will better understand 15th-century life from a young woman's point of view."
Community is important to Elliott. She says that it is the constant support and encouragement of her Great Falls friends and family that help add depth and meaning to her life as an author. The close, long-standing bonds, she says, add real value to not only her writing life, but to her daily life.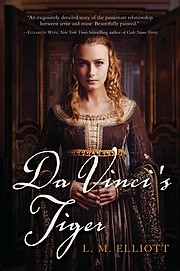 "One of the loveliest aspects of my talk at the NGA was that auditorium filling with dear friends from the area, from my Fairfax County childhood through those who have watched, with love and applause, my children grow up in Great Falls and McLean."
She was also happy that "the barn ladies" showed up – a tight-knit group of female equestrians with whom she's been friends for years and who nurtured her daughter Megan's passion for horse-riding from the time she was a little girl.

"A large group of barn ladies from South Down, gave up an exquisite fall afternoon of riding to come hear me talk," she says before rethinking it: "Maybe more to hear Megan, since they have been such devoted fans of her equestrian career" since she was a little girl.
But it is Elliott's two children who stand at the very center of her heart, both of whom provided invaluable assistance as she wrote the book.
Her son Peter, a 21-year-old junior at Loyola Marymount in Los Angeles, where he has majored in screenwriting and history, "offered insights that honed characters and dialogue and saved me," she says.
"The greatest joy in watching all this has been the true sharing of the experiences with my children," she says. "Both are creative artists. Both traveled to Italy with me to research. Both read the manuscript in various stages and offered story-saving advice."
The tremendous power of the muse is a running theme that is woven masterfully throughout the book – in fact, even before Elliott writes the first word.
The muse is ever present in Elliott's dedication writing, "For my muses, Megan and Peter."