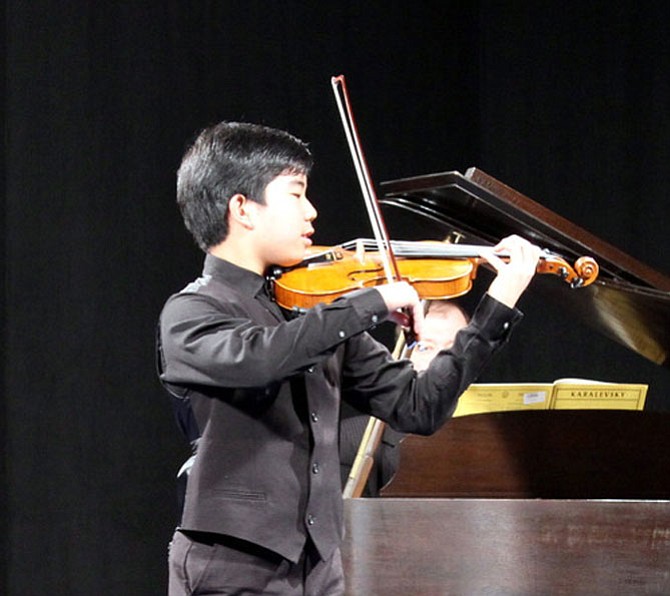 Thirteen-year-old Masato Chang from McLean recently won the Music Teachers National Association (MTNA) Competition for his category on the violin, in Virginia. This makes him one of the highest-scoring string players for his category.
While he was introduced to the violin at age five, he did not become serious about it until a few years later.
"He was very inspired by his cousin," said his mother, Michi Chang. "His cousin went to James Madison University on a full scholarship for his violin playing. That really inspired my son and he really wanted to be just like him."
For the past year and a half, Chang has been a student at the Horman Violin Studio, run by violinist Amy Beth Horman. "He is an absolute marvel on the violin having started at only eight or nine, which, by violin standards, is fairly late," said Amy Beth Horman. "This recent win ranks him as the highest scoring string player in Virginia in his age group and he will now go to the next round, which means traveling with our pianist to compete in January to Florida."
He previously performed at Carnegie Hall when he was 12, after placing second at the American Protégé Competition.
"He does things on his own that aren't even taught," explained Brad Clark, who has accompanied hundreds of young musicians on the piano, including Chang. "The way he connects with people when he is playing is very unusual. He has a special gift."
During this past summer, Chang traveled to Tuscany, Italy for the Interharmony International Music Festival, where he studied with Julliard professor, Shirley Givens.
"[He] received great training," said his mother. However the environment was demanding. Orchestra rehearsals ran as late as midnight or 1 a.m. "He had solos, private lessons, trio classes and chamber classes. The majority of kids in this camp are college students," she continued.
Chang practices for roughly three hours a day and makes up for any missed time during the weekends, and while he competes as a soloist, he also plays with his school orchestra at Longfellow Middle School.
"He always offers to help others (his section, especially) and gives out suggestions for the good of the ensemble," said the school's orchestra director, Bomin Collins. "His solo/personal accomplishments are astonishing, but his willingness to blend in and work with others to produce an exceptional ensemble is also another achievement that he has been sculpting/achieving in class."
For the next stage of the MTNA Competition, Masato will travel to Tampa, Fla. where he will compete at the University of Southern Florida. If he wins, he will compete at the national level in San Antonio, Texas.

"We are so proud of him," said Horman.