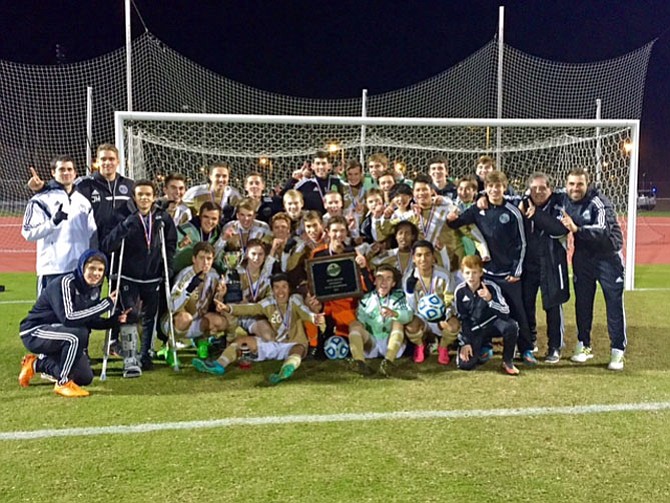 On a chilly night in Richmond, the #7 seeded Panthers faced off against their arch rival and #1 seed Bishop O'Connell Knights. A 1-1 tie earlier in the year set up what would be a heated and highly contested state title match in which neither team would concede a goal despite numerous high quality chances for both sides and many drama filled moments all the way through the second overtime period.
A 0-0 scoreline led to a penalty kick shootout, and for the Panthers, who had already knocked out the #2 and #3 seeds in the tournament, a familiar scene as their first round game was won in penalties against Trinity Episcopal. After making their first and O'Connell missing their first two attempts, the Panthers relaxed and netted their next three, winning 4-2 in the shootout and sending the team, coaches and the crowd into a frenzy.
"This year will be remembered for a team and group of seniors that refused to quit, despite major injuries, heartbreaking losses and a fair bit of bad luck. The Panthers came together to save their best soccer for the end of the year. The heart, determination and pure and utter passion that these boys showed when the season was on the line epitomized what we look for and stand for here at PVI. I couldn't be prouder of the team and especially the senior class and captains who from day one set a tone of being a family above anything else," said head coach Matt Leiva.
This is the second VISAA State Championship for the Panthers in the last 5 years.