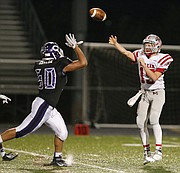 Thunderstorms in the Northern Virginia area and a delayed start could not prevent the Homecoming festivities and the Chantilly Chargers from a 27-7 victory over McLean on the gridiron Oct. 9 in Chantilly.
Chantilly quarterback David Tammaro threw two touchdown passes and ran for another, and Cush Eastman ran for 134 yards and a touchdown. Chantilly rushed for over 300 yards for the game.
Chantilly opened with a 20-0 lead after Tammaro's 68-yard run on third down and never looked back. McLean scored its lone touchdown in the second quarter.
Chantilly improved to 4-2 overall, 1-1 in Conference 5. McLean remained winless at 0-6. The Highlanders will host Yorktown at7 p.m. on Friday, Oct. 16.