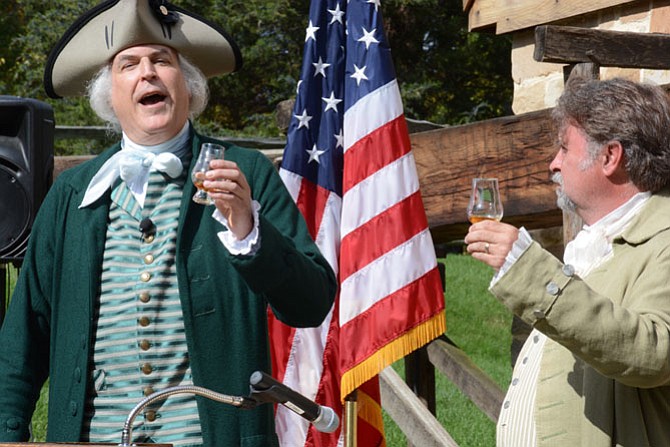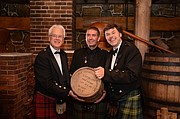 General George Washington and his Scottish farm manager James Anderson reflected on Anderson's suggestion to add whiskey distillation to the plantation milling business.
"I told him absolutely not," the General said.
"But I said it would make more money," Anderson said.
"I told him we absolutely will," Washington chimed in.
The pair spoke at an Oct. 13 event at the Mount Vernon Gristmill and Distillery to unveil a special Single Malt whiskey created in collaboration with master distillers from three different Scotch whiskey producers.
The process started in March 2012 with the team at Mount Vernon grinding one ton of Scottish malted barley in the gristmill, just as it would've been done in George Washington's time. The mash, created with 18th-century methods, was stirred by hand and then run through a sieve, also by hand.
"There was lot of hard work, a lot of learning," said head distiller Dave Pickerell with Oak View Consulting.

From there, master distillers Andy Kant of Cardhu Single Malt Distillery, John Campbell of Laphroaig Distillery and Dr. Bill Lumsden of The Glenmorangie Company helped create the whiskey using Mount Vernon's copper pot stills heated by wood fires. They produced 10 gallons of a single distillation whiskey and 10 gallons of a "limited edition" twice-distilled whiskey, totalling about 30 bottles of each.
"We didn't measure, we did it all by taste," said Cant. "We decided what we were making wasn't half bad. It was such a blast, just using what we know."
Because they used smaller barrels and the materials produced a more pure product, "the idea was a short maturation," said Lumsden.
The whiskeys were barreled in used Bourbon casks that were re-coopered in Speyside, Scotland. Some of the spirit was then finished in broken down madeira wine barrels, known to be a favorite of Washington.
"It was really creative," said Campbell. "We just kept taking a taste, saying yes, this is good."
Unlike the straight unaged and aged rye whiskeys also produced and periodically sold at the Mount Vernon Distillery, these special bottles will be auctioned off. The first pair came up at the Distilled Spirits Council of the United States 14th annual "Spirit of Mount Vernon" heritage dinner and rare spirits auction held on the lawn of Mount Vernon in the evening on Oct. 13. The set sold for $26,000.
"It's glory," said Pickerell, describing the light, sweet taste of the finished product. "I think the expectations from the Scots were low; that we were able to rise to the occasion was really cool."