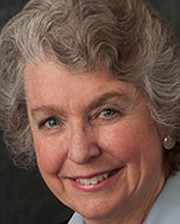 Town of residence: McLean

Age: 68

Family: Mother of 4 FCPS graduates, grandmother of 2 current FCPS students, mother-in-law of an FCPS teacher

Education: BA (GWU), Master of Arts in Teaching (Harvard)

Offices held, dates: School Board member At- Large, 1991-1993, Dranesville representative, 1996 to present Occupation and relevant experience: former elementary teacher, PTA president, president of the FCCPTA, board chair, The Country Day School, board chair, The Cappies (a high school theater and journalism program)

Community involvement: McLean Project for the Arts, Healthy Families Fairfax

Website: www.janiestrauss.com

Email address: jkstrauss@cox.net

Twitter handle: N/A

Name three favorite endorsements: Democratic Party, Fairfax Education Association, Fairfax County Federations of Teachers 10
Q&A:
1. What is one issue that defines your call to serve, why does it matter, and how will you tackle it?
Our investment and oversight of our public schools is critical to the future success of our children our county, our state and indeed, our nation. With the challenges facing the next generation — from global instability and an integrated global economy to climate change and energy sustainability — our children's education is more important than ever. We must keep our highly regarded public schools strong. We must improve teacher pay, reduce class size, close achievement gaps, and emphasize high-level thinking, literacy and communication skills. We must maintain our rigorous programs for ALL students in the STEM fields, the arts, humanities and athletics. While we must continuously evaluate programs shedding what is no longer needed or effective, we must understand how to prepare our children for their future. Their success will come not from what they know but what they can do with what they know.
2. What distinguishes you from your opponent(s) and why should voters choose you?
I have spent 40 years in the field of education. I understand teaching and learning, the use new research, budget prioritization, and the changes needed to prepare our children for success in a high tech globalized world.

3. How will you address the growing economic divide in county schools?
All schools regardless of the socio economic background of the surrounding community must have the needed resources to sustain high standards, employ excellent teachers and offer all students a rigorous well rounded, rich curriculum. We must also urge the Board of Supervisors to avoid as much as possible, housing patterns that tend to over- concentrate high poverty in certain regions.
4. How will you address the achievement gap?
Our schools must provide the expectation and needed resources for all children to succeed. We must continue weighted staffing formulas, provide targeted help to teachers, and insure all students are taught a rigorous well rounded rich curriculum. We must expand community-wide initiatives such as Communities at Hope in Herndon and Opportunity Neighborhoods in Mt. Vernon and Reston and continue the county/schools coordination of social services that provides wrap around help for families.
5. More than half of the county budget is devoted to the local school system with a significant budget gap looming, both for FCPS and Fairfax County. What steps would you take to manage the gap and to fund the needs of the school system? What are the top priorities and what could be cut?
The priorities must be improving teacher salaries, lowering class size in non-Title 1 schools and maintaining our rigorous well rounded programs for all students. We must work collaboratively with the Board of Supervisors to understand total county needs, listen carefully to citizen input and continuously look for efficiencies and cost savings. I agree with Supervisor John Foust that school needs must be considered at the very beginning of budget planning rather than toward the end in March/April when adjustments are limited and difficult.
6. What value does FCPS add for taxpayers who do not have children in the schools?
Good schools sustain property values, attract businesses and jobs to the county which can increase the percent of commercial real estate and decrease the county's reliance on residential real estate for county revenues.