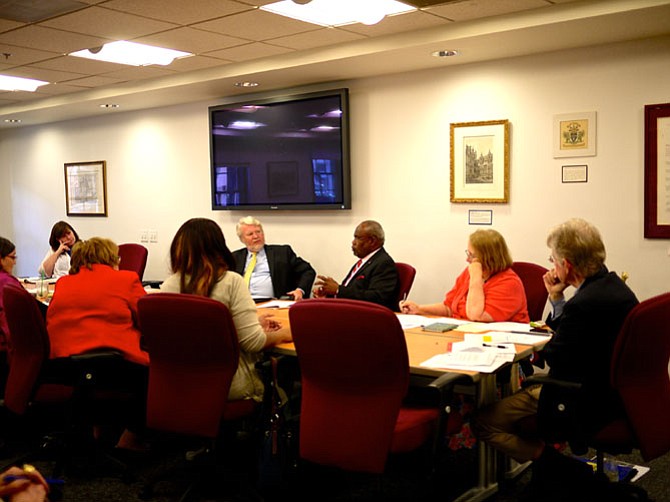 Details
*More than 90 percent of uninsured Alexandrians are between the ages of 18 and 64;
*In Virginia, more than one fifth (21 percent) of people in the coverage gap are poor parents whose incomes place them above Medicaid eligibility levels;
*Women account almost half (44 percent) of adult Virginians in the coverage gap;
*More than two-thirds (70 percent) of people in the coverage gap are in a family with a worker, and 54 percent are working themselves;
*A majority of these individuals are people of color (although the largest subset is non-hispanic whites)
"The poor are likelier to be sick. The sick are likelier to be poor. Without interventions, the poor will grow sicker and the sick will grow poorer. And that has troubling consequences for all of us."

— H. Jack Geiger, MD, Recipient of the 2014 Frank A Calderone Prize in Public Health
For the past year, members of the Mayor's Advisory Panel on the Uninsured have been meeting to discuss how they can help Alexandrians caught in the so-called "Coverage Gap."
Due to the Virginia General Assembly's refusal two years ago to accept the governor's recommendation to expand the Medicaid program — as allowed under the Affordable Care Act in 2014 — some of Alexandria's low-income residents continue to lack health insurance coverage. In the fall of 2014, a small group of citizens who were skeptical about Medicaid expansion happening soon, and believed the city and community ought to focus on those who were being denied comprehensive insurance, approached Mayor Bill Euille to request his support for an effort to bring attention to the uninsured.
The mayor responded by appointing a 13-member Special Advisory Panel to examine the potential health consequences of lack of insurance coverage for residents and to offer some recommendations that would improve access to essential health services. "Thanks to the mayor's leadership," said Richard Merritt, one of that original group, "the City of Alexandria may be the only local jurisdiction in the Commonwealth to have taken some positive action on behalf of its uninsured while others continue to debate the issue in Richmond."
The panel was chaired by Dan Hawkins, senior vice president, Public Policy and Research, National Association of Community Health Centers. Hawkins is a 25-year resident of Alexandria and an expert on preventive and primary care approaches targeted at low-income uninsured and underinsured populations across the country. Also on the panel were representatives of organizations concerned about health care access, including Neighborhood Health, the city's one federally-supported community health center; Inova Alexandria Hospital; the Public Health Advisory Commission; the Alexandria Redevelopment Housing Authority; the Northern Virginia Health Foundation; the Partnership for a Healthier Alexandria and its Mental Health Anti-Stigma HOPE campaign; an expert in local health and community service policy; a representative of a local foundation; and a representative of the private medical community. The panel received technical assistance from the Alexandria Health Department and the Department of Community and Human Services. The Public Defender, whose office, under the auspices of Enroll Virginia, is hosting the efforts of a healthcare advocate to assist indigent clients of her office, their families and other uninsured city residents in obtaining health care coverage, was also engaged.
The advisory panel focused its attention on the approximately 5,000 Alexandrians who would have been eligible for health insurance had the General Assembly expanded Medicaid in Virginia. According to a Kaiser Foundation study released in October 2015, current analysis cites 131,000 people in the entire Commonwealth who have a coverage gap. These individuals are too poor to qualify for tax subsidies toward the purchase of coverage but also too rich for Virginia's limited Medicaid plan.
Panel members cited the Arlington Interfaith Health Alliance, made up of mostly African-American churches, as a good example of initiative in the healthcare gap arena. They also noted that making smoking cessation available to lower income people was a good example of why this is a health disparity issue: equal numbers of low income people and high income people should be encouraged to stop smoking.

One of the first recommendations of the panel was a free health fair, upcoming on Saturday, Nov. 14,, from 9 a.m. to 4 p.m. at the Hammond Middle School. The fair will offer free flu shots, dental education, HIV tests and counselling, glucose tests for diabetes, blood pressure tests, BMI screens, anemia screens, mental health screens, hearing and vision screens, and physical therapy demos. Participants will also be able to learn about Alexandria's Health Care and Social Services; get free one-on-one help filling out an "Obamacare" application; and apply for SNAP food assistance benefits. Free fitness and health workshops will be offered throughout the day. Any uninsured resident of the City of Alexandria is welcome to attend, particularly those between 18 and 64 years of age, those who have no access to a doctor, and those who need help getting health insurance.
For more information, call 703-746-4357 or email Alexvauninsured@aol.com.