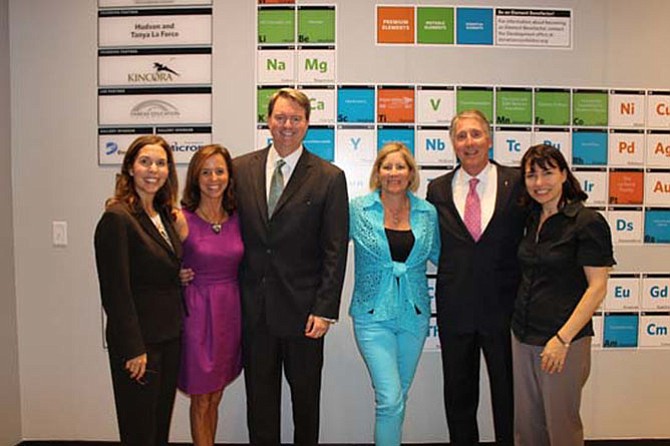 Dozens of business and civic leaders experienced a fun-filled hands-on science field trip at the newly opened Children's Science Center Lab at Fair Oaks Mall. The Community Leaders Breakfast, on Thursday, Oct. 8, introduced many in the business community to the brand new hands-on science, technology, engineering and math (STEM) center which opened in Fairfax in June.
Guests took a field trip through the Children's Science Center Lab and experienced first-hand, the various hands-on STEM activities at the Lab's Experiment Bar, Discovery Zone, Tinker Shop and Inspiration Hub – all open to visitors every day during regular business hours at Fair Oaks Mall. One of the event hosts, Cardinal Bank president Kevin Reynolds, stressed the importance of the exciting STEM education programming going on at the center: "The Children's Science Center is an incredible resource for our community to provide hands-on interactive experiences for our children. For the business community, today's breakfast brought leaders from across the region to learn about the Lab and to begin the journey to finding resources to build the larger museum."
Since its opening in June, more than 15,000 children and their families have already visited the Children's Science Center Lab, which is fast becoming a sought after field trip destination for area schools. The Children's Science Center continues to offer its community outreach programs, including its popular Family Science Night program that takes hands-on STEM activities to 50 area elementary schools annually. The Center is in the planning stage for a full-scale museum to be located on donated land in the Kincora development in Dulles, Va.