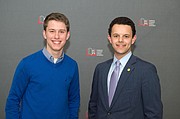 Dressed in a suit and tie to a casual meeting at Ted's Bulletin, it's not hard to tell that Ben Press, a rising senior at James Madison High School, is no ordinary teenager. As Fairfax County Public Schools students prepare for yet another school year, Press is preparing for a role that comes with many more responsibilities than those of a regular student: the student representative to the FCPS School Board.
The student representative is elected each year by the Student Advisory Council, and his or her main role is to represent the FCPS student body and advocate for students' opinions in the School Board. However, Press believes that the job holds much more, saying that he plans to "engage students, interact with board members, and become that bridge between the two populations."
Press has been a leader in both the school and county levels, serving in the SAC and the School Health Advisory Committee, where he focused on student mental health, which also served as his main point in his platform when he ran for student representative.
"It [mental health] is important to me because I've seen close friends suffer from mental health challenges, and the widespread scale of these issues made it clear to me that they weren't isolated," said Press.

Harris LaTeef, a former Langley High School student and the preceding student representative, stands with Press on the importance of focusing on mental health as a county.
"I think I've said this at board meeting many times — you can be a genius, you can be smart, you can work really hard, but if you don't have your physical and mental health, the education that Fairfax County is providing you is completely worthless," said LaTeef, citing the later start times that passed this year as one of his biggest accomplishments as the student representative because of its impact on student mental health.
Another challenge coming towards FCPS next year is the budget. With talk of cutting extracurricular activities and compromising class size, figuring out the budget will be the top priority for the School Board in the coming year.
"I'd like to create a budget that reflects the community's values. I want us to create a budget that helps students and is sustainable and create a budget framework that students can continually advocate," said Press, mentioning this as one of his main goals as student representative.
In the midst of upcoming challenges, the 45th FCPS student representative remains hopeful and excited for the future of FCPS and continuing his term throughout the school year.
"We have long maintained the commitment to educating the whole child, which is unique in many divisions in many areas. That's why FCPS is a standard of excellence — we care about our students and educate them in life skills. If you look at our Portrait of a Graduate program, those [FCPS graduates] are people who are ready for 21st century jobs," said Press.
Outside of FCPS, Press works as a student representative with multiple advocacy organizations including Real Food for Kids and the Fairfax County Council of PTAs. At Madison High, he serves as a member of the Student Government, a peer tutor, and the DECA Chapter president. He is also a member of the National, History, French, and DECA Honor Societies. He is an Eagle Scout and has served as the Lodge Chief of the 4,000-member Amangamek Wipit Lodge of the Order of the Arrow, Scouting's Honor Society, and as a youth member of the National Capital Area Council of the Boy Scouts of America's Executive Board.