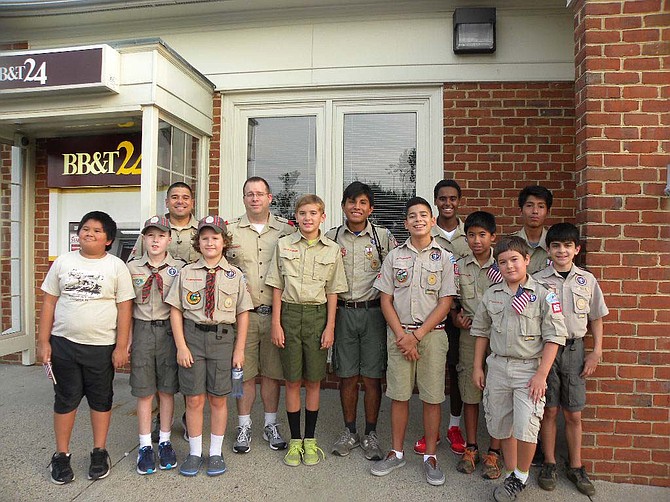 Central Springfield bustled, not from the usual parade of rush hour traffic forced to stop at each light dotting that sliver of Backlick Road, but from residents, local politicians and military personnel who gathered together in front of the FedEx on Bland Street, across from the new Potbelly Sandwich Shop in Springfield Plaza, for the 14th Annual BridgeWalk across Veterans Bridge on Tuesday, Sept. 1.
Members of the American Legion Post 176 and military personnel closed ranks and led the community--composed of businesses, boy scout troops, elementary schools and civic organizations-- across the bridge towards the post's headquarters. The Fairfax County Police closed southbound traffic during the march.
Supervisor Jeff McKay (D-Lee District) said that a "night like this is a good way to come together and celebrate civic pride and our togetherness. As a community we need to do more of that."
John Sawyer, of West Springfield, is a long-time member of the American Legion but this is the first BridgeWalk he has attended. "I've enjoyed it a lot. It shows the solidarity we have with the community. We get the community to turn out, politicians, military people, guys missing their legs, you don't see that all the time."
Fort Belvoir garrison commander Col. Michelle Mitchell and inspector general Maj. Gen. Bradley Becker thanked the community for its support of the military and their families as part of Community Covenant.
The army program fosters community partnerships to "improve the quality of life for soldiers and their families." It extends to other military services, as well.
McKay read parts of the covenant. Military and community officials signed the agreement reaffirming the commitment to uphold their partnership.
BridgeWalk over Veterans Bridge started in 2001. McKay said that the spirit of partnership and unity that he remembers after the Sept. 11 attacks is still alive in Springfield.
Fostering a sense of community can be a challenge sometimes, but "that's why you do events like this. I think you can tell from the turn out tonight, people love it. They turn out from all different walks of life."
"Fairfax County is a big area, and it can kind of all just blend in together. But Central Springfield, in particular, has its own character, has its own community," said McKay.
Among the attendees were state senator George Barker (D-39); Del. Vivian Watts (D-39); students and staff from Lynnbrook, Crestwood and Garfield elementary schools; clerk of court candidate Bettina Lawton; sheriff candidate Bryan Wolfe; representatives from the Greater Springfield Chamber of Commerce; and representatives from BridgeWalk's sponsors. Kings Park Concert Band provided musical accompaniment for the fourteenth time and has done so since the first BridgeWalk.