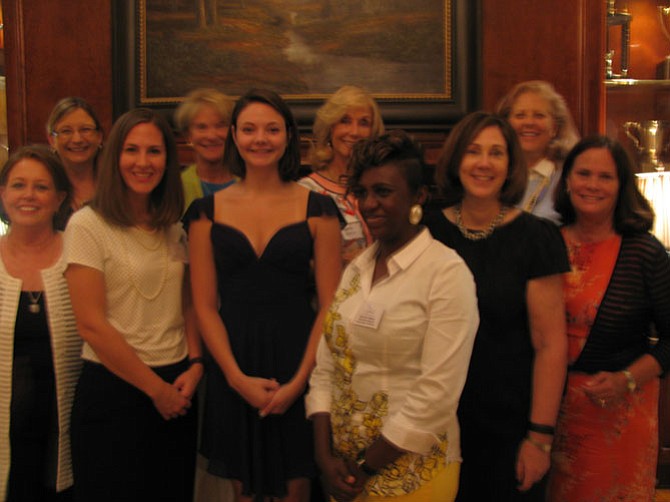 Why This Matters
Great Falls Friends and Neighbors has more than 200 active members.
Part of its mission has always been to give back to the community and to support women and children.
Through the GFFN Scholarship Fund, the club provides scholarships to financially support up to six women ages 25 or older in Northern Virginia who are pursuing degrees in higher education and are attending George Mason University or Northern Virginia Community College.
Each year, a scholarship is also given to a George Mason University dance student in the name of a club founder, Bette Carter.
The group's annual Bridge Jamboree, scheduled for Nov. 14, helps support the GFFN Scholarship Fund.
Martina Atabong, 35, is the first member of her family to go to college. "I'm the only one," she said.
Atabong, a single mother originally from Cameroon, is on the Dean's list at George Mason University and received her associate of science degree from Northern Virginia Community College. She plans to graduate with a nursing degree in 2016.
Great Falls Friends and Neighbors women's club presented her with a scholarship Friday, Sept. 18 at Riverbend Golf and Country Club in Great Falls.
"Oh my ... I'm so excited, I'm so happy, deeply touched," she said. "My gratitude, it's deep, deep. I hope I can be an example for everybody, for all those ahead of me and all those coming up."
"I'll use this opportunity," she said during the luncheon on Friday.
About 125 members of Great Falls Friends and Neighbors attended the luncheon.
Nora Pouillon, owner of Restaurant Nora and author of "My Organic Life: How a Pioneering Chef Helped Shape the Way We Eat Today," gave the keynote speech at the luncheon.
"Food here was so different than what I was used to," she said. "The vegetable department was the smallest section in the groceries."
"You all have the possibility to really make a choice about what you want to eat," said Pouillon, owner of Restaurant Nora, one of the first restaurants in the country to specialize in organic food.
When she was asked if she offers any advice to other women, Pouillon said, "The most important thing is to do something you like, that you have a passion for, and you go for it," she said.
"It's our kickoff luncheon," said Ricki Harvey. "It's an amazing group of women. We love having this time all together and one of our commitments is philanthropy.
"We love putting a face to the story," she said. "We love helping the next generation."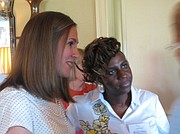 LEA LINES graduated from Lee High School in Springfield, and currently lives in Lorton and raised her children for more than 10 years.
She re-entered academia after her youngest enrolled in elementary school.
"My family comes first," she said.
The 4.0 George Mason University student is a member of two honors societies and volunteers for her nursing major and in the community.
She plans to become a nurse in neonatal intensive care, pediatric intensive care or labor and delivery.
"There are so many costs associated with my major; lab coats, equipment and everything," she said. "This is going to make a big difference," she said.
Great Falls Friends and Neighbors gave Kelly Hogan, of Woodbridge, a dance scholarship named for Bette Carter, one of the founders of the Great Falls women's club.
"It's encouraging that people are supporting the arts," she said. "It's helping me, who I am as an artist and as a dancer."
Hogan studies dance and arts management.
"It's a nice surprise," she said, of the scholarship that her department applied for on her behalf.
She has a quote from Marianne Williamson tattooed on her left shoulder that reads: "Our deepest fear is not that we are inadequate, our deepest fear is that we are powerful beyond measure."
HELA BAER, who works as a part-time teacher while she attends George Mason University, was unable to attend the luncheon.
Baer, 25 of Fairfax, moved from Philadelphia to Israel when she was 8 years old and attended international high school in India.
According to Great Falls Friends and Neighbors members Harvey and Laura Bumpus, Baer served mandatory military service in Israel for three years, which influenced her decision to major in Conflict Analysis and Resolution at George Mason.
She also has earned a 4.0 grade point average and is in her second year at George Mason.
Great Falls Friends and Neighbors raises money for these scholarships primarily through the annual Bridge Jamboree.
The 12th Annual Bridge Jamboree is scheduled for Saturday, Nov. 14 at Christ the King Church, 10550 Georgetown Pike in Great Falls.
The women's club has more than 200 active members.
They have multiple events and causes that they support throughout the year.
The group has an annual tradition of selling Christmas ornaments; this year's ornament honors President Calvin Coolidge who lit the first National Tree, according to Great Falls Friends and Neighbors.
The ornaments are available to purchase at Great Dogs of Great Falls and the Studio Hair Salon.
Proceeds from last year's sales of ornaments enabled the group to donate $4,054 to Artemis House, a 24-hour domestic violence shelter in Fairfax County.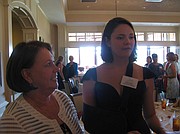 Great Falls Friends and Neighbors has existed for 35 years, and is a result of a 2011 merger of two local clubs, the Great Falls Woman's Club and Newcomers of Great Falls.
"The purpose of GFFN is to establish and foster an atmosphere in which new and current residents of Great Falls and surrounding communities can develop new friendships and community contacts through social, educational and cultural activities. In addition, the club provides, service, support and donations to philanthropic and civic organizations in and around the Great Falls community," according to the club.
Great Falls Friends and Neighbors has a vineyard bus tour scheduled for Oct. 8 and a cooking demonstration at L'Auberge Chez Francois in January to benefit the charity, Kids R First.