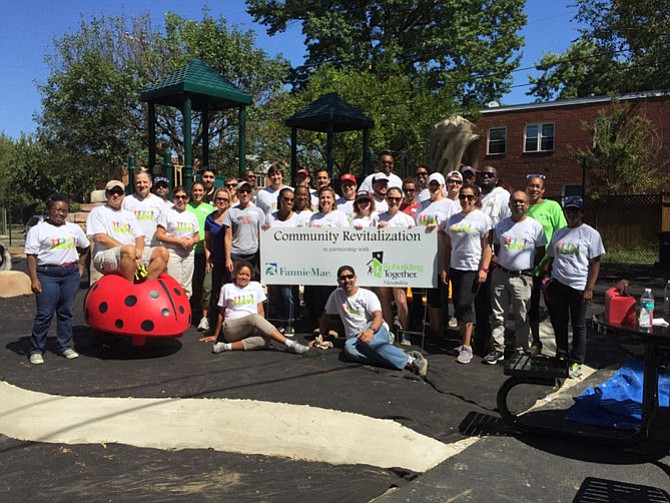 A mom pushing a stroller with a toddler skipping beside her is an image that stays with me following our day in the park.
I had the privilege of being in Hume Springs Park volunteering with 60 Fannie Mae employees, working to rejuvenate this urban oasis and make it an even better place for children and families to spend time. Hume Springs is a half-acre park tucked in a low-income neighborhood that borders Arlandria that needed a little TLC. We were also working in partnership with the city's Parks & Recreation Department and RunningBrooke, an Alexandria nonprofit dedicated to helping at-risk children.
This bright, sunny day, our volunteers from Fannie Mae built and installed park benches and tables, cleared sod for a stone pathway, installed new signage, and removed bushes/trees, making the park safer and more inviting.
Every day, Rebuilding Together Alexandria works to preserve housing affordability and revitalize the Alexandria community by providing free, safe, and healthy home repairs. We typically provide upgrades to low-income homeowners, which is important since most of these clients live near the poverty level. By improving their housing conditions, we can help them remain active members of their neighborhood and in turn help our city remain economically, socially and culturally diverse.
But we also recognize that revitalizing a community requires more than helping individuals. Successful communities need safe places to meet, play, exercise, and hold events. In fact according to the City Parks Alliance, a national nonprofit dedicated to preserving and building parks, "easy access to parks, green spaces, and recreation areas is critical to the wellbeing of urban communities, [and] are vital to the future of America's cities."
There are several specific benefits for investing in parks and rehabbing them as part of the urban infrastructure, notes the City Parks Alliance. One is that parks spur economic growth. In fact, Texas A&M University research found "at least a 20 percent increase in value for properties abutting parks." Another is that parks "are an important part of the solution in reducing obesity and its associated public health costs." Also, city parks are an important part of the ecosystem as trees in urban areas are credited with removing 711,000 tons of air pollution annually in the U.S.
All these reasons are why we invest time into repairing homes as well as open spaces. With the help of volunteers, we know that Hume Springs Park can be a community unifier focused on health, neighbors, and the outdoors. But nothing quite drives the point home better than a child hopping and running through something you helped make better. It's revitalizing.
To learn more about volunteering with us, visit www.RebuildingTogetherAlex.org or call 703-836-1021.