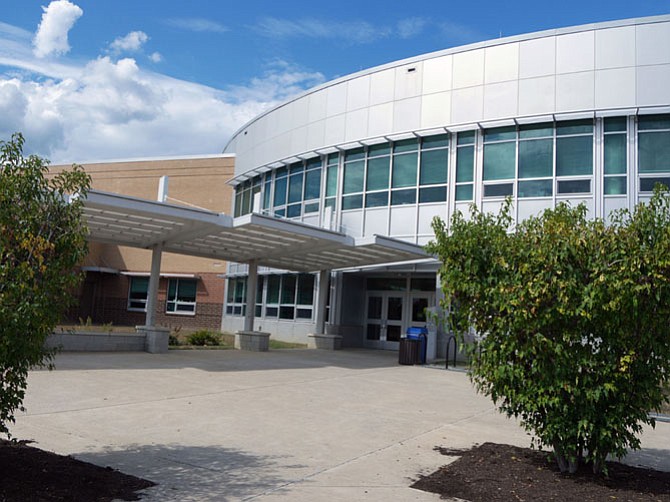 Fifth and final in a series of articles focusing in Arlington middle schools.
Kenmore Middle School at 200 S. Glen Carlyn Springs Road is celebrating 20 years of integrating Arts and Communications Technology into the curriculum. Dr. John Word, principal for the last 17 years, explains that last year, "We did a math project that was an art expression of '2 to the power.' The students painted hangers in different colors starting with one red, with two pink attached at the bottom, then four purple hanging from the pink." He says this "2 to the power" was on exhibit at the Phillips Gallery and the U.S. Department of Education.
"This is the beautiful thing. Music is universal but when you explore more deeply I realize art is universal. It's about engagement of the students so they want to learn," Word said. He illustrates the point by describing "geo-jingles" in world geography. Students find a piece of music and then incorporate country, economy, politics in the words. "It is a benefit when you see kids engaged and roll the thought process into the day." Like the other four Arlington middle schools, Kenmore requires five core subjects in sixth grade and four core subjects in seventh and eighth grades. But the difference is the subjects are taught from the perspective of fully integrating the continuum of the arts through the objective, content and assessment. "We define this in four ways: music, visual art, dance and drama." In addition, the exploratory wheel allows students to choose art, choral music, tech ed, family and consumer science, business education for several weeks on a rotating basis. Word says he taught a course in character development which used to be one of the choices.
A full array of sports is offered including basketball, soccer, dive, "track is big" and wrestling. "I've had one or two girls." And you can take dance as a sport, ballet to hip-hop. He added "there are also a lot of after school clubs including a new taiko drumming group, fencing, Frisbee last year; chess club springs up. I'm so pleased to have all of these outlets."
Word says that although Kenmore is both an arts and communications technology center middle school he finds, "if we put technology in people's hands, they use it." He points out changes in technology that "give the ability to come across cultures and geographic boundaries." Kenmore has a Smart Technology Collaborative social studies classroom equipped with five SMARTBoards, specially designed furniture and a microphone for the teacher. Lilo Stephens, the classroom teacher, is a facilitator in her classroom allowing students to use the technology while working together with their classmates to guide their own learning.
Word points out the digital screens that allow images from the computer to be displayed on the SMARTBoard and can be modified on the screen itself. He said, "Brainstorming in the classroom can be fun by using all forms of media including videos, maps, photographs, games making it incredibly dynamic in nature."
Stephens said, "There is no other classroom like this in the D.C. area." Earlier in the day the class had been engaged in "tableau training" where students posed together, each a piece of a picture illustrating the significance of Susan B. Anthony's work.
A mural of two crouching cougars spreads across the second floor wall as one climbs the stairs to the seventh grade classrooms. Word says two Kenmore students painted this last spring. "Have you heard of Margot McDonald?" He said McDonald sang for the students last year with lines down the hall to get in. When she asked the students how many of them had entered the school's PTA Reflections Contest, a few hands went up. "That's how I got started. I wrote this song when I was at Kenmore for my entry into the Reflections contest." Word said, "Of course interest in this went sky high the next year."
Kenmore doesn't have the space problem experienced by most of the other middle schools in the county. "When the new multi-storied building was constructed 10 years ago, we were proactive thinking ahead and asking for an auditorium, black box theatre, three computer labs for each grade, a wellness fitness lab in the gym and a TV studio, more than we thought we would get. We were pleased and surprised that it was all approved.
Word started teaching high school history in Charles County many years ago where he was also the class sponsor. His major responsibility was putting on the senior prom. Word taught 14 years in a number of schools in Prince George's County and D.C. where he was a middle school principal. "My experience during this time as a substitute teacher embodied what got me really excited about teaching. I was engaged with kids and I didn't have to know everything. We learned together."
As he reflects back he said, "there was no voice mail or email when I started my career." He says he doesn't think youths have changed over the time he has been teaching. "Middle school encompasses the full range from small kids to almost complete adult size, same in maturity. It is fascinating to see what happens to all of them in three years." But Word thinks that imposing the experiment that one size fits all on local schools is a mistake. "Our attention to subgroups has paid some dividends. For instance, if kids have a low SOL score we give them help on a specific objective in the classroom, use a focus approach on areas where we have a deficit. We have to be careful what we measure, like how to work cooperatively, how critically do kids think." When Word started they had a textbook but no curriculum: "I had a lot of autonomy as a teacher. Then we went through a tighten-up phase, a very detailed script of what to do, very rigid. Then onto a more general framework. The more we have an open-ended environment the better we are. Connect and engage. Expect and empower."