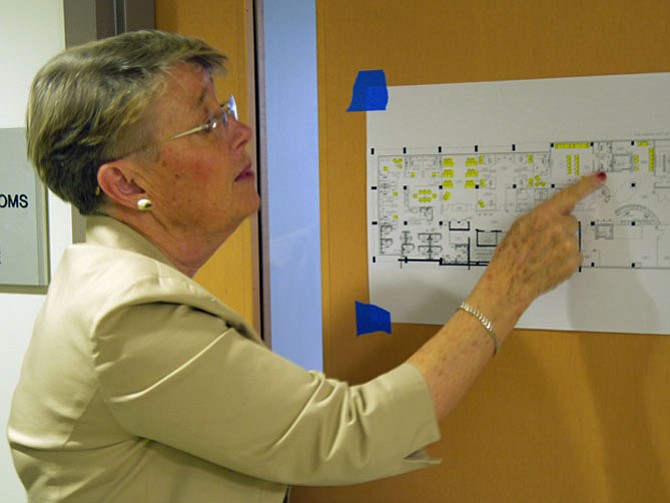 It was just a week before the new Arlington Street People's Assistance Network (A-SPAN) Homeless Services Center was scheduled to open in Arlington. Katheen Sibert, president/CEO of A-SPAN, said this "was the first day of their soft move and there's been lots of hugging and jumping up and down today." Floor two of 2020A 14th Street is the day program and floor three is the homeless shelter. Some offices had a chair or desk, others had boxes of office supplies, the five respite beds donated by Virginia Hospital Center were in place.
Sibert explained with the addition of the day program this is "much more than a shelter, a one-stop place for our homeless neighbors to come. Our focus is to end homelessness; this is a bridge, not the end game." Floor two is the day program with client rooms, a kitchen and "dining room that has to hold 80 people minimum but we never turn people away to feed. Although located just two blocks from the previous homeless shelter, the new facility offers an expanded set of services and is open 24/7.
"There are three main things the homeless are looking for: a place to sleep that's safe, to get something to eat and personal hygiene (a shower and laundry)," Sibert said, standing beside the main desk resource center where homeless will check in "and we can see what services they need." They may want to eat, shower, see the nurse or pick up their mail. A waiting area is off to the right with a large dining room on the other side. Sibert opens a door to a full kitchen where she explains homeless will be trained in a culinary program so they have a marketable skill.
Down the hall is a women's shower area for the day program with dark blue and white patterned tile stalls. "This doesn't look like an institution," Sibert said. "I told them blue tiles didn't cost anything more." Through a door marked client rooms 219a-e therapists can meet with homeless or housing needs can be discussed. Sibert says there is an individualized service plan for each person.
Around the corner is a classroom. "I'm very excited. We've never had a classroom, and we hope to set up internships." At the end of the hall is Sibert's office, "never had an office so nice" and one more "never had" down the hall, a large conference room.
Elevator or stairs lead to the third floor where the sleeping quarters are located with 36 beds for men and 14 for women. Bright green walls decorate each two-person women's sleeping area with lockers, under bed storage and hooks for their garments. "We work with the community. The brand new blue and green sheets were donated by Macy's for the opening," she said.
A quiet room is down the hall with books and a small tv or "if people just can't sleep," Sibert said. A large laundry room is available for the day program, the shelter and respite and once a week the jail across the street does the bed linen, a 20-year arrangement. In Room 325 nurse practitioner Kasia Shaw sees shelter patients. Shaw is a former West Point graduate and veteran. Her examining table has been donated by Georgetown University. The five medical respite beds are primarily intended for homeless patients released from the hospital and told to go home to rest. But they have no home. "They can stay in a respite bed for up to 30 days if needed, but the beds are not intended for chronic illness," she said.
There was some discussion during the tour about provisions that had been made in the neighborhood to alleviate concerns about loitering homeless or unruly situations. Sibert points out there has been crisis intervention training for officers, and the county has hired a security patrol officer. However, it was pointed out that at the previous shelter just over a block away there had been no major incidents in 20 years. And Sibert added, "the homeless are citizens just like we are and deserve the same treatment."
The original temporary homeless shelter was set up over 20 years ago as a hyperthermia center for extreme weather conditions from November-March. "But," Sibert said, "people are homeless 12 months of the year." Momentum built gradually as citizens, businesses who who don't like to have people on the street and the faith community all gathered behind the idea of a permanent 24/7 shelter. Things started to accelerate when Sibert became president/CEO in November 2008. In November 2012 the Arlington County Board voted unanimously to move forward on the purchase of an office building at 2020 N. 14th Street and in March 2013 the Arlington County Board unanimously approved use permit for a year-round homeless services center. On Feb. 25, 2014 Board members approved the construction contract for the center. The opening of the Arlington's Homeless Services Center is Oct. 1 from 4-7 p.m. with refreshments at 4 p.m., remarks and ribbon cutting at 4:30 p.m. and center tours beginning at 5 p.m.