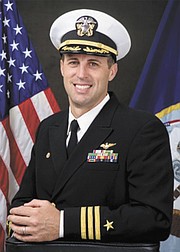 Helicopter Maritime Strike Squadron (HSM) 75 "Wolf Pack" held its change of command ceremony March 18, at Naval Air Station North Island in San Diego in front of distinguished guests and family members.
Cmdr. John C. Kiefaber relieved Cmdr. Jeffrey A. Melody, and assumed command of the Wolf Pack.
Melody, a native of Youngstown, Ohio, and a 1996 graduate of the United States Naval Academy, set the standard of excellence during his 15 months as commanding officer of the Wolf Pack. Under his leadership, HSM-75 successfully flew 2,215 sorties.
Amassing 5,095 mishap-free flight hours, Melody departs the Wolf Pack for Washington, D.C., to work in the Joint Staff, Policy and Plans Directorate at the Pentagon.
"It has been an honor to command the most accomplished helicopter squadron in San Diego," said Melody. "I started my flying career at the Wolf Pack, and I could not have imagined a better tour. The hard work and dedication of each and every Sailor made HSM-75 the outstanding squadron it is today."
Kiefaber, of Great Falls, assumed command after serving 15 months as the squadron's executive officer. He is a 1997 graduate of the United States Naval Academy, and was selected as the HSM-41 Instructor Pilot of the Year in 2005.
"It is a privilege to lead the exceptional officers and Sailors of HSM-75," stated Kiefaber "Commander Melody created a winning culture here, and I intend to build off of his remarkable leadership."
HSM-75 is based on Naval Air Station North Island in San Diego. The squadron flies the MH-60R Seahawk helicopter for its primary missions, which include surface and anti-submarine warfare. The MH-60R's operational capabilities allow the squadron to conduct all-weather sea operations in open-ocean and littoral environments as an integral part of Carrier Air Wing 11, in support of the USS Nimitz Carrier Strike Group. The squadron's secondary missions include: vertical replenishment, search and rescue, medical evacuation, and command and control warfare.
"Thanks to the dedication of the Sailors of HSM-75, the Wolf Pack will maintain its reputation of excellence and answer the call of the nation," said Kiefaber.