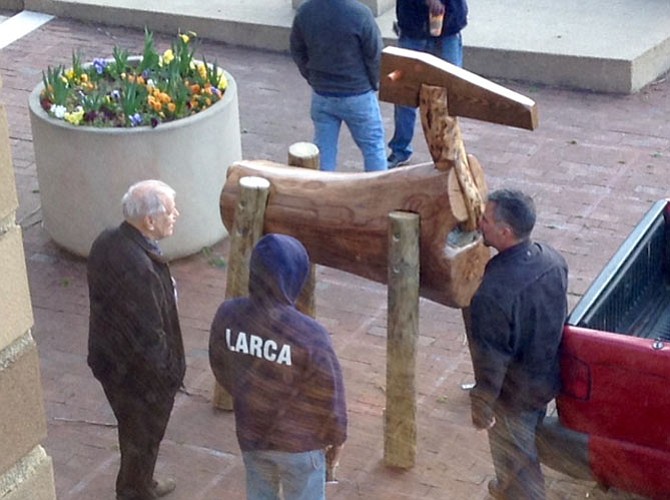 Week-long events celebrating legacy of Reston Founder Bob Simon. who died in September, at the age of 101, will culminate with the Founder's day celebrations on Saturday and Sunday, April 9-10.
In conjunction with Cornerstones and its sponsoring religious organizations, various faith communities in the greater Reston area will contemplate the legacy of Robert E. Simon, Jr. during the Founder's Week celebration of his life. Presented by Cornerstones and participating religious organizations.


The Reston Historic Trust and Museum presents the annual family-friendly community celebration on Saturday, April 9, 10 a.m.-4 p.m. at the Lake Anne Plaza, featuring a 50-foot Ferris wheel sponsored by Reston Association (RA), children's activities, children's art projects in cooperation with IPAR, musical entertainment, guided walks around Lake Anne Plaza, and remarks by local elected officials. Lake Anne of Reston Condominium Association (LARCA) and IPAR will also present The Wooden Horse, constructed by Reston artist Marco Rando. This commissioned public artwork is inspired by the Lake Anne original (of the same name) created by artist Gonzalo Fonseca in 1965.


Documentary Screening "Fun, Beauty, Fantasy: Reston's Public Art," Directed by Rebekah Wingert-Jabi, will be held on Saturday, April 9, 10–11 a.m. and 2–3 p.m. (Screening every 15 minutes) at the Jo Ann Rose Gallery – RCC Lake Anne (1609-A Washington Plaza, Reston)
IPAR presents screenings of a 15-minute documentary celebrating Reston's public art. Featuring interviews with Robert E. Simon, Jr. and others, it includes historic footage and details about the sculptures and fountains at Lake Anne and Reston Town Center, as well as the mosaic work at the Glade Drive underpass. Free.
Exhibit: Joyful Color in Reston, by Joan S. Kelly, Saturday, April 9,
Opening Reception: 1–4 p.m. at Reston Art Gallery and Studios (11400 Washington Plaza West, Heron House, Reston)


Artist Joan Kelly presents a collection of artwork honoring Robert E. Simon, the joy she has felt as a Reston resident, and the beauty of the diverse areas of Reston. Free.
A Gift to Bob's Community: In Celebration of Robert E. Simon, Jr., Sunday, April 10, 2–4 p.m. at Hyatt Regency - Reston at Reston Town Center (1800 Presidents St., Reston)
Celebrate the life of Robert E. Simon, Jr. with the Audubon Quartet, a short film about his extraordinary life created by Storycatcher Productions, and stories from his family and friends. Light refreshments will be served. Free, Reservations required. To make reservations, beginning March 29, call the CenterStage Box Office at 703-476-4500, and Press 3. There is a limit of 4 reservations per household. Presented by Reston Community Center, Reston Town Center and Hyatt Regency Reston.

Mercury Fountain Celebration, Sunday, April 10, 4:30 p.m. at Mercury Fountain at Reston Town Center, Reston
Following the Bob Simon Celebration at the Hyatt, join the community to turn on the Mercury Fountain for the 2016 season! Enjoy music, refreshments, family fun, and a brief dedication. Mon Ami Gabi and Tavern 64 are offering special cocktails to honor Bob Simon. Fountain Celebration is free.
Outdoor Documentary Screening "Another Way of Living: The Story of Reston," Directed by Rebekah Wingert-Jabi, Sunday, April 10, 7:30 p.m. at Reston Town Center Pavilion (11900 Market St., Reston)
Washington West Film Festival, in cooperation with Reston Town Center Association, is presenting an outdoor screening of this film about Robert E. Simon, Jr. and the creation of Reston. Bring blankets or chairs to sit on in the RTC Pavilion. Additional support provided by Moonflicks Outdoor Movies and Storycatcher Productions. Free.