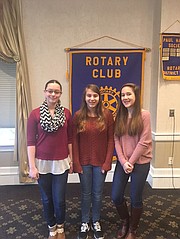 Three Irving Middle School students won the West Springfield Rotary Club's annual 4-Way Test essay contest.
First place went to Jessica Nasr, second place to Genevieve Perrella and third place to Maja Marcich. They were honored at Rotary chapter breakfast on Feb. 24, where they read their essays and received a certificate and a cash prize.
Nasr's essay also placed first in the Rotary Club's district-level contest. She will travel to Cambridge, Maryland in April to present her essay at the District's annual conference and will receive a $750 cash prize.