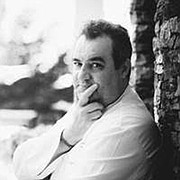 When you first enter Hilton McLean Tysons Corner restaurant, härth, you are greeted by cordial staff and an upscale casual setting, marked off by a glass wine cellar, a tapas bar and a large dining area skirted by an outdoor patio. Then when you get your orders, you will enjoy how the executive chef, Luc Dendievel, has assembled all the delightful textures and flavors on your plate. He can even elevate the humble hamburger into a gastronomic treat by filling a patty with bacon jam.
Understanding his lifelong passion for cooking and fine foods explains how he comes up with such elegant fare. A native of Belgium, Dendievel asked his mother when he was only 8 years old about becoming a chef, and at the age of 14, he enrolled in a culinary program at l'Ecole Hoteliere de Libramont. "I grew up around the table," he said, and his intense passion for fine food explains his adult success.
Then after serving in the military and gaining further culinary training, Dendievel headed to Paris to work in a three-star restaurant called Lucas Carton under chef Alain Senderens. There his boss taught him the importance of precision, from cleaning lettuce to roasting meats.
From Paris to D.C., Dendievel ended up working as the chef de cuisine at the embassy of the European Economic Community before heading back to restaurant life working for celebrity chef Michel Richard at the now-closed Citronelle in the Latham Hotel in Georgetown. "I worked there for one-and-a-half years," he said. "This was an important step in my career…He taught me a lot."
After his stint there, Dendievel moved to New York and then to California to open various upscale restaurants, finally returning to the metro area to work as executive chef at the Willard InterContinental for five years, where its eateries earned awards for the outstanding food.
Now at härth, Dendievel is delighted to work closely with his crew in a basic and smaller kitchen, where he can tend the restaurant's rooftop garden and beehives. He has also reshaped the menu, keeping its American character but adding a certain European edginess and adding a sophisticated children's menu.
"Most children's menu just offer fried chicken and pizza," he said. "I have two children and when they go out to eat, they must taste and try something new and different." Dendievel makes meatballs but made with a mix of ground pork and veal. He also does offer fish, but not fish sticks, but something that is "kid-friendly" and he offers different vegetables that children may not know or like. "We should educate children to eat something they don't eat at home. That way we teach them the pleasures of the table," he said.
As he maps out upcoming menus, Dendievel noted that he always keeps seasonality in mind as he creates recipes. "The menu is constantly changing, depending on what is available," he said. "Right now, with our waffles we serve a rhubarb compote. I try to respect what nature gives you."
härth Restaurant, Hilton McLean Tysons Corner, 7920 Jones Branch Drive, McLean. 703-761-5131. Hours: breakfast and lunch Monday-Friday; dinner, Monday-Saturday; breakfast buffet, Saturday and Sunday.
Luc Dendievel's Strawberry Red Wine Soup
Serves 8
1 pound strawberries, washed and hulled
1 bottle red wine
1/2 cup sugar
1 cinnamon stick
1 lemon, quartered
1 vanilla bean
Garnish
1 pint strawberries, hulled and sliced
1 pint raspberries
1/2 pint blackberries
1/2 pint blueberries
8 scoops vanilla ice cream
Fresh mint sprigs for garnish
Cut strawberries into quarters and process them in a mixer until puréed. Combine the wine, sugar, cinnamon, lemon and vanilla bean in a large saucepan. Bring to a boil, reduce the heat to medium low, and cook for about 30 minutes. Add the strawberry purée and bring to a boil again. Strain through a fine mesh, and discard the cinnamon, vanilla bean, and lemon. Cool the soup.
To serve, display the fruit in large soup bowls, and pour the strawberry soup over top. Add the vanilla scoop, and garnish with a sprig of mint. Serve.