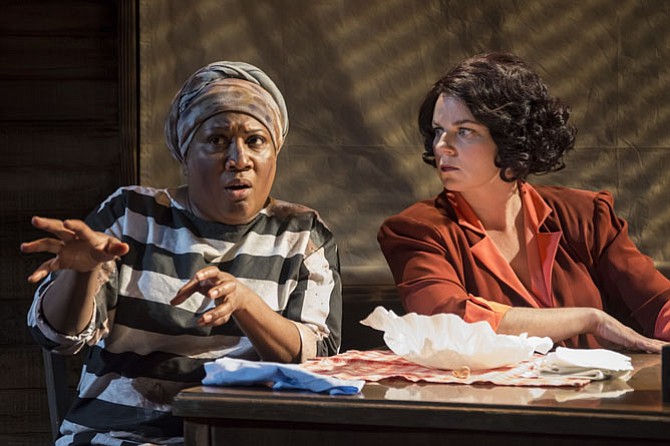 As a producer of plays I find the playwright's inspiration for a play to be fascinating. Is it a historical base or inspired by or simply a jumping off point for a purely fictional story? In the case of "Black Pearl Sings!" it is all of the above. Playwright Frank Higgins was intrigued by the research happening in the 1930s where ethnomusicologists were traipsing around the country trying to locate indigenous American folk songs and then trace them back to their origins whether it be Ireland, Africa or Appalachia. Musicologist John Lomax is famous for his recordings of more than 10,000 folk songs during that period that have ended up at the Archive of American Folk Song of the Library of Congress. His most famous discovery was Huddie "Leadbelly" Ledbetter in a Louisiana prison who became one of the most acclaimed folksingers of the time.
The other influence is equally compelling as described by playwright Higgins in an email about the documentary film "The Language You Cry in." He writes, "It's how I became aware of the story behind the African song that appears at the end of 'Black Pearl Sings!'. Back in the '30s a professor recorded a Gullah grandmother and her granddaughter singing what to them were nonsense syllables in what sounded like a children's song. Decades later, a professor from Sierra Leone heard the recording and thought that there were words that sounded like a dialect from his country. The filmmakers searched for years and finally found a woman in an inland village who recognized the song. The filmmakers then brought the granddaughter (now a grandmother herself) and her granddaughter to Sierra Leone to meet the woman who knew the original African song."
In "Black Pearl Sings!" we find musicologist Susannah in a Texas prison discovering Pearl who just might have information about the origin of a song that can be traced back to its original roots in Africa. A fascinating relationship arises from this unlikely partnership. References to Pearl's family in "the islands" with that funny name, "Hilton Head." and many other clues make the play particularly interesting when you know some of the background. There is even a reference to Zora Neale Hurston, the famous author but also folklorist and anthropologist, who is a supposed neighbor of Susannah's in Greenwich Village, where we find our two characters in the second act. Those are all the clues you are getting. Now you will have to come see the production to find out how it ends. Running through May 29, so call the theatre today for tickets.