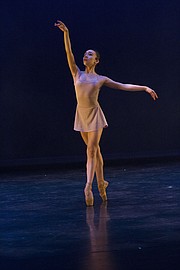 See more photos of Emilie Gregory on Facebook.
Emilie Gregory, 14, of Great Falls -- a dancer with Classical Ballet Theatre of Northern Virginia -- received one of the highest honors an artist her age can receive: the offer of a full merit scholarship to train at the Miami City Ballet School. The scholarship will cover her full tuition and housing so that she can train year-round with the renowned company's Pre-Professional Division. Emilie earned this offer after demonstrating her potential during the school's summer intensive, held June 19-July 24.
Although worried about being so far from her home in Great Falls, Emilie was excited about the prospect of learning the Balanchine technique and working with multiple, esteemed faculty members. These included principal faculty members Geta Constantinescu, Kathryn Moriarty, and Olivier Pardina; faculty members Rafi Maldonado-Lopez and Maribel Modrono; principal member Jeanette Delgado; and principal soloist Nathalia Arja. Emilie enjoyed training, making new friends, and watching Miami City Ballet company members rehearse, and she excelled in the environment, composed of fast-paced, rigorous days.
"Classical Ballet Theatre prepared me very well…," said Emilie, who noted that her Classical Ballet Theatre [CBT] training also had gained her a partial scholarship to attend the intensive as well as similar offers from other ballet companies. "

Emilie began studying ballet seriously in September 2011, when she joined Classical Ballet Theatre [CBT], founded over 25 years ago by Executive Director and Artistic Director Cynthia Donavin. At CBT, Emilie has enjoyed exceptional training as well as classical and contemporary performance opportunities. Some of her favorite experiences include training for her YAGP solos with Kathy Beyer, former principal dancer with Boston Ballet, and with Meghan Rudorfer, former member of Martha Graham 2; performing the Dew Drop role in CBT's 2015 "Nutcracker"; learning new choreography from master instructors such as Roni Koresh; and giving community children free outreach performances.
A rising ninth grader at Langley High School, Emilie will continue her local studies and daily Classical Ballet Theatre training, and she credits ballet for the time management skills and sharpened focus that she will need to accomplish this on a daily basis. She also will volunteer through CBT's Children's Series and other organizations, opportunities she feels keep her grounded. All the time, she will focus on her goal of joining a professional ballet company in the future.

For more information about CBT and its training programs,call 703-471-0750 or visit http://www.cbtnva.org/summer.