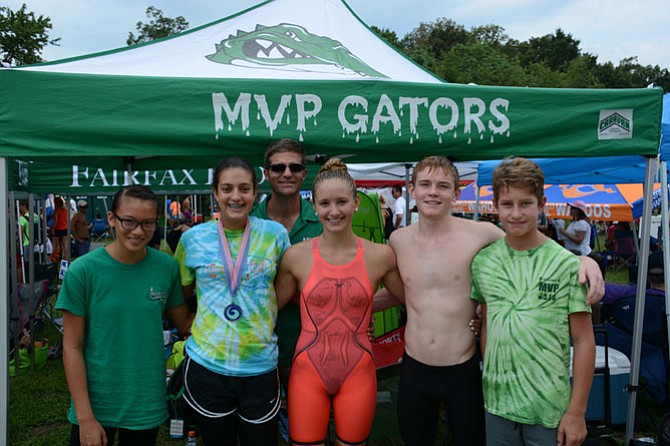 See more swimming photos on Facebook.
Olympic swimming started with an expected bang in its opening weekend in Río, with Katie Ledecky and the men's four by 100 freestyle relay, that included Michael Phelps in the second leg, captured gold medals for Team USA. The day before the first finals events, Northern Virginia played host to its own local version of swimming championships, the Northern Virginia Swimming League individual All-Stars meet.
The meet was held Aug. 6 at the Little Rocky Run community pool in Clifton.
Though other leagues including Prince William, Colonial and Reston offer many communities opportunities for youth summer racing, none match the NVSL for sheer size and speed.
"It's the best of the best," said Crosspointe head Coach Molly Miller. Miller lives in Chantilly, while Crosspointe is based in Fairfax Station. Like most coaches present, Miller thought her swimmers were able to "rise to the competition and see some good swims."
AMONG THAT ELITE-LEVEL competition was Cassidy Bayer, a rising junior at West Potomac High School. Bayer finished third in the 100-meter Butterfly at the U.S. Olympic Trials earlier this summer, just missing a trip to Río.
Even with that type of talent, Bayer was still a fraction of a second off the NVSL record for the 50-meter fly.
Bayer's teammate on the Mount Vernon Park Gators community team Emily Makin did break a league record Saturday, going 34.84 seconds in the 11-12 50-meter breaststroke. The record was previously held by both Lindsey Ertter (1995) and Ashley Danner (2003).
Makin's coach Paul Makin [no relation] has been coaching in the NVSL since 1993, and with Mount Vernon Park for the last 11 years.
Paul said he and Emily "didn't have [the record] on the radar today, it was a surprise."
Like many summer league coaches, Paul also coaches for a more business-like year-round program. In his case, it's Nation's Capital Swim Club, of which Ledecky and Bayer are members.
In summer league and the NVSL, however, Paul said, he wants his athletes to "just swim, have fun."
"They control their own races," Paul continued, "not the clock."
Peter Makin [also not related to Paul] of the Fairfax Frogs community team was another highlight of the muggy early-August morning.
The previous week, he became the first NVSL male ever in the 13-14 age group to break a minute in the 100-meter individual medley.
Saturday, Peter added nearly two tenths to his own league record, but still won the event handily.
"It felt good," he said after the race, smiling. "Not quite as good [as the previous week.]"
Peter described racing in NVSL All-Stars the same weekend as Olympic swimming kicking off as "pretty awesome." He'll be focusing on watching the men's sprint freestyle: the 50, 100 and 200-meter distances.
"I hope Nathan Adrian will take them," he said. Adrian is a favorite from the US, competing in the 50 and 100. He anchored the gold medal-winning relay along with Phelps on Sunday night.
Mike Fones of Fairfax is Peter Makin and the Frogs' head coach. He's returned to coaching after taking a 20-year break. This past winter season, he coached the Robinson Secondary School men's and women's swim and dive teams to state championships.
"This really is a team," he said of the Frogs. "They compete as a team. You have 18-year-olds cheering for six-year-olds. Siblings with siblings. It really is a family."
Fast, slow, All-Stars or developmental meets, "It doesn't make any difference," Fones said. In his opinion, family and fun are the bedrock of summer league.
OTHER NEW LEAGUE RECORDS from Saturday include Blake Madsen of Poplar Tree in Chantilly. The 8 and under swimmer broke his own NVSL record with 19.77 seconds in the 25-meter breaststroke. He was the first to go under 20 in the league's history.
Jacquee Clabeaux of Greenbriar in Fairfax broke another Ashley Danner league record that's stood since 2007, going 31.62 in the girls 15-18 50-meter breaststroke.
For full results, visit www.mynvsl.com.