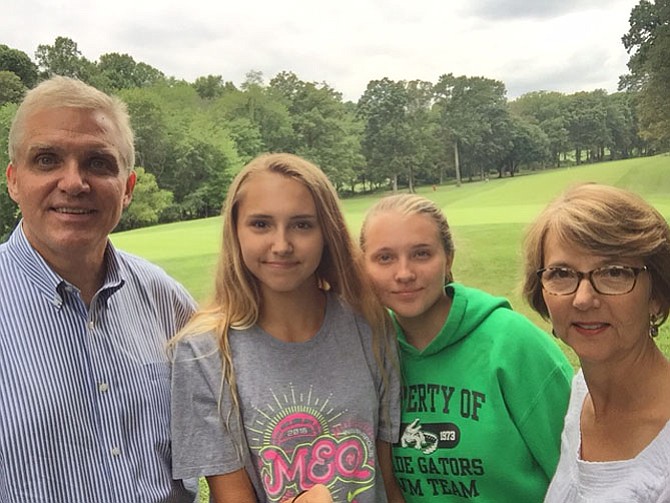 On Monday, Oct. 3 Rescue Reston will hold its 2nd annual fundraising golf tournament at Reston National Golf Course. Rescue Reston is the citizens' organization created four years ago to prevent Northwestern Mutual's plans to destroy 166 acres of recreational open space in Reston.
Rescue Reston joined Reston Association and Fairfax County to bring three separate issues before the Board of Zoning Appeals and the Circuit Court. Over the last four years, the law firm of Greehan, Taves, Pandak & Stoner has expertly represented Rescue Reston. The success in the court system increased the need for legal defense funds. Through specific fundraising events organized by Rescue Reston, including door-to-door solicitations, the organization has resolved 74 percent of the $151,169 four-year legal bill.
Rescue Reston is self-funded and is separate from Reston Association and Fairfax County. "We have a strong committee and are working very hard for this year's golf tournament to resolve this last portion of our legal obligation. We are off to a great start this year with significant contributions. Yet we have a way to go. There are plenty of opportunities for members of the community and businesses to participate in or sponsor the tournament," said John Pinkman, chairman of the golf tournament.
Sponsorships are available at many different levels. A unique sponsorship offered this year is the "First Responder Foursome," an opportunity to honor those who serve by sponsoring four first responders for an afternoon of golf. You can also choose three first responders to join your foursome. Sponsoring a South Lakes High School Golf Team Student Athlete Foursome is also a choice. Reston National is the SLHS Golf Team's home course.
"We've been working very hard to preserve Reston's open space and the excellent standard set by the Reston Association for our extraordinary and nationally recognized planned community. Rescue Reston has been representing all the citizens of the community and now we need the community's help in this fundraising effort," Pinkman added.
Reston Association's Walker Nature Center will host a free nature hike on the RA pathways that border and cross the golf course on the same afternoon.
A short list of already committed sponsors includes Apex, Achieve-It, Carahsoft, Glory Days Grill - North Point, Internal Medicine Associates, Fairfax Ob-Gyn Associates, Elden Street Financial, Bio Green Outdoor Services, My Dad's Automotive, plus Realtors® Ray Wedell, Paul & Keith Hartke and Sam & Kathy Scoggin.
More information, registration, and sponsor opportunities can be located at www.rescuereston.org or by contacting Mr. Pinkman at 703-725-3873.