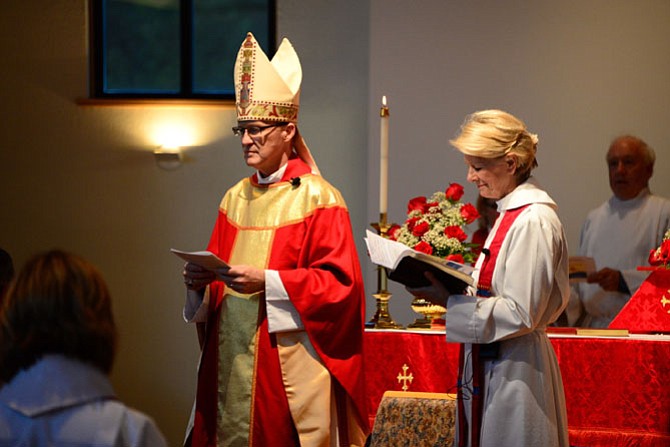 A decade after a painful split prompted by the Episcopal Church's appointment of its first gay bishop, Herndon-based Epiphany Episcopal Church Aug. 11 celebrated a major milestone in its rebirth and growth with the installation of Rev. Hillary T. West as rector.
West had previously served as Priest in Charge for three years, overseeing the rebuilding of Epiphany's congregation after the clergy and much of the parish in 2006 decided to leave the Episcopal Church and align itself with the Anglican Church of Nigeria in protest of the Episcopal Church's appointment of Rev. Gene Robinson as the first openly gay bishop in its history. A legal battle ensued over the control of the church property, located at the corner of Fairfax County Parkway and Franklin Farm Road.
Rt. Rev. Shannon S. Johnston, bishop of the Diocese of Virginia, presided over West's installation and enthusiastically recognized the life of Epiphany Episcopal Church as the church marked its new place in the Diocese as a self-supporting congregation. This is a significant step for the church, which started over with a small group of Epiphany members who chose not to follow the previous leadership and instead decided to remain in the Episcopal Church, gathering and worshiping in the Oak Hill Elementary School cafeteria before the Virginia State Supreme Court in 2010 returned the church property to the Diocese of Virginia. The remaining congregation returned to its church in 2012.
Since then, Epiphany has worked to rebuild itself from a tiny congregation with an enormous facility to a self-supporting church.
"Epiphany Episcopal Church faced tremendous challenges when a small group returned to a huge facility," said Bishop Shannon Goff. "The growing congregation has managed the stresses and joys of living into new possibilities with prayer, trust, hard work and a real sense of community. They've turned a significant corner as they focus now on all that lies ahead."
MANY AT EPIPHANY credit Rev. Hillary West's leadership as a key to this growth. Bishop Goff also noted, "Hillary West brings a wealth of maturity and experience to her role as rector of Epiphany. Her unflappable hope and unwavering joy are contagious. God has given her the skills to lead the congregation with courage into the future that God intends."
Epiphany began its search for a new priest-in-charge in the summer of 2013. Arthur Buck, Senior Warden at the time, describes the results. "It quickly became evident that Hillary was a great fit for Epiphany. Her love of children and skill in growing a vital congregation were particularly important in the selection process. Her recent selection as rector is an affirmation of both her ability and her dedication."
The installation was warm and inclusive while still reflecting the traditions of the Episcopal Church. One highlight was the Reverend Marek P. Zabriskie's sermon celebrating Reverend West's journey as a priest in his parish near Philadelphia. It was spiked with lots of humor but also his deep appreciation of Reverend West.
Fred West, Hillary's husband of 45 years, said that Rev. West's father would be particularly pleased, "Poppi was completely devoted to his family and with quiet conviction exercised Christian ethics every day. Upon retirement, he traveled the world assisting in the formation of newspapers in developing countries. He was full of enthusiastic love for his family and world community."
Fred goes on to say, "On any Sunday morning, when Hillary is delivering a sermon, I imagine B. Dale sitting next to me with tears of joy celebrating Hillary's brilliant and loving ministry."
Mike Dickerson, former Senior Warden also credits Epiphany's achievement to Rev. West: "Hillary has given Epiphany new life, growth, and opportunities to serve our community."
It is that serving the community that is notably significant. Recognizing a responsibility to reach out in love to a group increasingly persecuted, Rev. West, in collaboration with the Adult Ministry team, cultivated a relationship with a local Muslim community and was instrumental in facilitating a series of faith-based discussions through which they could better understand — and break bread with — their neighbors.
Rev. West's commitment to serving those in need has broadened the mission of the Community Outreach Ministry. In particular, she has made serving the homeless a major focus of Epiphany. With her leadership, Epiphany has hosted a hypothermia shelter four times in the past two years and will host another this upcoming Christmas week. With her encouragement, Epiphany has also sent money to help the flood victims in West Virginia and recently a team from Epiphany transported appliances for 35 families to the Almost Heaven Habitat for Humanity in Franklin County, W. Va.
The Children's Ministry has also benefitted from Rev. West's guidance and mentorship. Vestry Member, Melissa Woodhead explained, "She encourages Epiphany's teachers and parent volunteers to explore new ways to apply their individual gifts in the classroom and beyond. She has an amazing connection and rapport with our kids, and has been instrumental to the successful expansion of our team's programs."
A MONTHLY "Family Worship" is one of the first ideas Rev. West introduced to Epiphany. It is a service that incorporates kids' participation in every aspect of worship. Epiphany is traditionally very accepting of the noise and disruption that happens when children get restless during church, but Family Worship takes the pressure off parents and makes it more fun and ultimately more meaningful for children.
Epiphany Episcopal Church believes they will continue to grow, as does the Diocese. "We look forward to Epiphany continuing to grow as a beacon of hope and light right there on the corner of the Fairfax County Parkway and Franklin Farm Road. The congregation is poised to be a powerful partner with the Holy Spirit in reaching out in love to the wider community," Bishop Goff said.