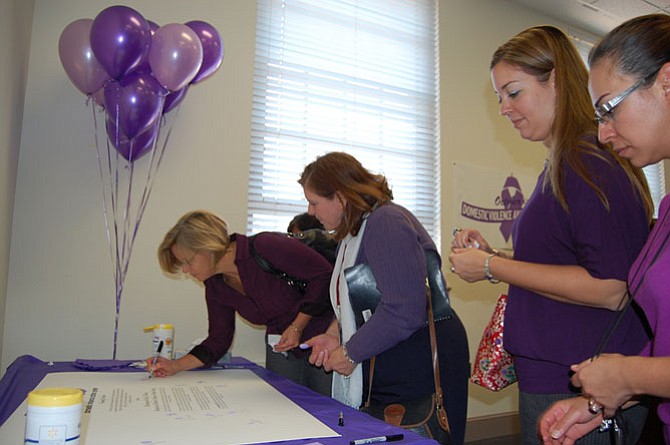 In the last month, Fairfax County Police released information on two domestic homicides it was investigating.
On Dec. 1, FCPD announced they apprehended Lewis Edward Reeder, 56, of Alexandria for allegedly setting his girlfriend Delores Williams, 64 on fire and fleeing. Williams died from her injuries 12 days after the initial incident, police said.
Nov. 28, police arrested Ricardo Molina-Martinez, in his late 40s, for allegedly stabbing his wife to death early that morning.
According to the Fairfax County Domestic Violence Fatality Review Team 2013 Annual Report, in 2010, domestic violence was the number one cause of homicide in the county, accounting for seven out of 16, or 44 percent.
In July last year, Fairfax County began implementing the Maryland Model Lethality Assessment Program (LAP) to reduce domestic violence deaths. It includes a screening test for officers to use when they arrive on the scene of domestic violence situations. High-danger victims are given the chance to speak with an advocate on the 24-hour LAP Line staffed by Fairfax County Office for Women and Domestic and Sexual Violence Services.
In the first year of implementation, this LAP program generated about 46 such calls each month. About half of screenings led to phone calls. By Fairfax County Police station, calls from Mount Vernon made up the largest portion at 23 percent. Second was Mason with 16 percent followed by West Springfield and 13 percent.
Bystanders can also play a major role in preventing domestic violence, spokesperson for Fairfax County Department of Family Services Amy Carlini said, by contacting Fairfax County's 24/7 anonymous domestic violence hotline, 703-360-7273.
"It's not just for victims," she said. "We would love if family members, friends, neighbors call as well if they may think someone they know or love is experiencing domestic violence."
Four of the seven domestic violence homicides in 2010 involved bystanders, the 2013 report said: people who either heard direct threats of killing or knew about ongoing violence within the relationship.
On the phone, callers can explain what they're seeing and why they suspect it. The advocate on the other end will then suggest the best way for people to move forward.
"We don't want to say bystanders should on their own try to intervene," Carlini clarified. "It really is a delicate situation and could be dangerous. A lot of times victims at highest risk when they try to leave the abuser. We don't want someone with all good intentions to put them at risk."
Another major resource Carlini highlights is the Fairfax County Domestic Violence Action Center (DVAC), which held its grand opening in October this year in the Historic Fairfax Courthouse located at 4000 Chain Bridge Road.
The multi-agency center houses county agencies and non-profit organization partners including Legal Services of Northern Virginia, Shelter House and Northern Virginia Family Service. It's a one-stop location where individuals can get legal help, court services, advocacy and crisis intervention.
To better serve the entire county and geographic restrictions, some of those services are also offered through the South County Government Center, Carlini said, located at 8350 Richmond Highway in Alexandria.
For more information, visit the Fairfax County Office for Women & Domestic and Sexual Violence Services at www.fairfaxcounty.gov/ofw or www.fairfaxcounty.gov/domesticviolence. The 24/7 domestic violence hotline is 703-360-7273.