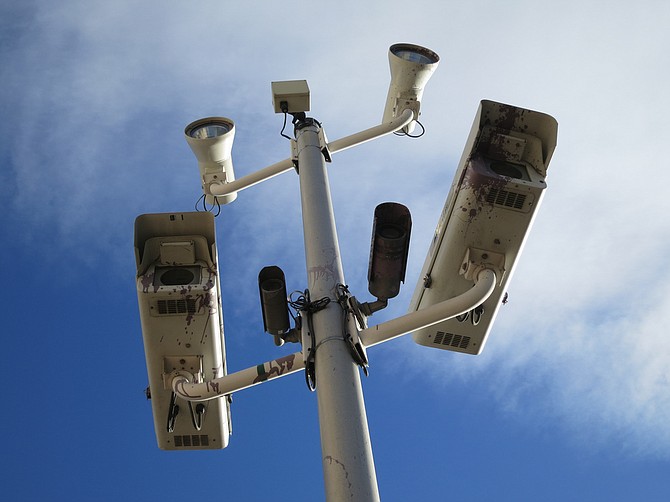 Fairfax — Drivers in the City of Fairfax had better pay attention to the traffic signals. That's because City Council has given Police Chief Carl Pardiny the go-ahead to have red-light cameras installed at three more City intersections.
The Respect Red (Photo Red Light) program currently has six cameras at five intersections, with the installation of an already-approved camera for a sixth intersection pending until roadway construction (the Northfax project) is finished at Chain Bridge Road and Eaton Place.
In a jurisdiction such as Fairfax, Virginia State Code allows for a maximum of 10 intersections to be enforced by red-light cameras. They're presently at: 1. Eastbound and westbound North Steet and University Drive; 2. Eastbound Fairfax Boulevard and Old Lee Highway (Fairfax Circle); 3. Westbound Fairfax Boulevard and Lee Highway (Fairfax Circle); 4. Westbound Main Street and Pickett Road; 5. Eastbound Fairfax Boulevard and Plantation Parkway.
During a recent City Council work session, Pardiny presented a great deal of data and information. Before requesting permission to add more red-light cameras at other problematic traffic spots in the City, he updated the Council members on the safety improvements resulting from having cameras at the existing locations.
"There have been about 79,000 violations at these five intersections since 2011," he said. "About 5.6 percent of the violations over the past two months were City residents; previously, it was 7 percent."
PARDINY said Xerox is the vendor responsible for installing and maintaining the red-light cameras. Two Xerox employees review each violation to make sure they're correct. Then they forward them to the Police Department's photo red-light technician and a $50 civil fine is issued to each violator.
"Overall, there's been a steady decline in red-light violations since the cameras were installed," said Pardiny. "The only exception is Plantation Parkway and Fairfax Boulevard. Also at these intersections, crashes decreased – especially red-light-related crashes – which are usually very serious."
So five more intersections were selected as potential sites for more cameras. "We chose them based on vehicle-crash and red-light-violation data, pedestrian risk, and the difficulty of police enforcement there – an officer's ability to pull out safely to apprehend a violator," explained Pardiny. "We didn't include any with pending transportation projects."
The five intersections are: Fairfax Boulevard and Jermantown Road (eastbound and westbound), Main Street and Woodland Drive (eastbound), Lee Highway and Jermantown Road (southbound), Main and Whitacre Road, and Main and Oak Street. Pardiny especially recommended placing cameras at the first three intersections.
"The highest accident rate was at Main Street and Woodland Drive eastbound," he said. "And it's the only intersection along that corridor that doesn't flash at midnight, but keeps functioning as usual."
Pardiny said Xerox staff would conduct a safety assessment of each site to determine camera placement and would do the installation. And there'd be a 30-day warning period for drivers before tickets are issued. The new cameras are planned to be installed sometime in early spring 2017.
"I believe photo red-light systems enhance roadway safety for our officers and for the public," he said. "We simply can't be everywhere at once, and some intersections aren't accessible to police vehicles."
Councilman Michael DeMarco asked if the existing cameras were functioning properly, and Pardiny replied, "Yes, and they're checked daily, multiple times."
COUNCILWOMAN Janice Miller inquired about the next steps for City Council to take regarding this matter. Pardiny said there's no requirement for a public hearing. And, he added, "It's cost-neutral to the City because our temporary, part-time employee handles this [program]."
"Where do the red-light fees go," asked Councilman Jon Stehle. Pardiny told him the proceeds go into the City's General Fund.
DeMarco then said he was fine with adding red-light cameras to the three locations Pardiny recommended as the highest priority ones, and Miller concurred. Stehle asked if the Council had the authority to greenlight the new cameras during a work session, and City Manager Bob Sisson said it did.
"I've struggled with this program from the beginning," said Mayor Steve Stombres. "But the safety arguments are very compelling, and it's not to generate revenue." He then told Pardiny the Council's guidance is to "move forward with this."