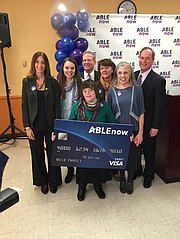 On Monday, December 19th, the 2nd year anniversary of the federal passage of the ABLE Act, Delegate Eileen Filler-Corn (D-41) joined ABLEnow for a press conference to commemorate the opening of the first ABLEnow account in Virginia. Fittingly, this account was opened for Natalie Beck, whose parents first came up with the idea for ABLE accounts several years ago.
"The ABLE Act is proof of the power of citizen advocacy," said Filler-Corn. "From the kitchen table of Catherine and Stephen Beck in the 41st District, to President Obama's desk and to Governor McAuliffe's pen, twice, the 2015 bill and the 2016 bill both experienced a long journey. A journey that Stephen unfortunately was not able to see come to a close. But Stephen's legacy will live on through his daughter Natalie, and through these ABLE Accounts and the families that they will help."
Delegate Filler-Corn introduced and helped pass the Virginia Achieving a Better Life Experience (ABLE) Act during the 2015 Virginia General Assembly Session. This law makes it possible for individuals with disabilities and their families to open tax-free savings accounts to cover important expenses such as education and housing.
Other guests that joined Delegate Filler-Corn and the Beck family at the press conference included U.S. Rep. Don Beyer (D-8), Mary Morris, the CEO of Virginia529 College Savings Plan, ABLEnow, Michael Morris with the ABLE National Resource Center and Sara Hart Weir with the ABLE Alliance for Financial Empowerment.
Eligible individuals with disabilities can now open their own ABLEnow account. Click here to learn more or to sign up for an ABLEnow account today.