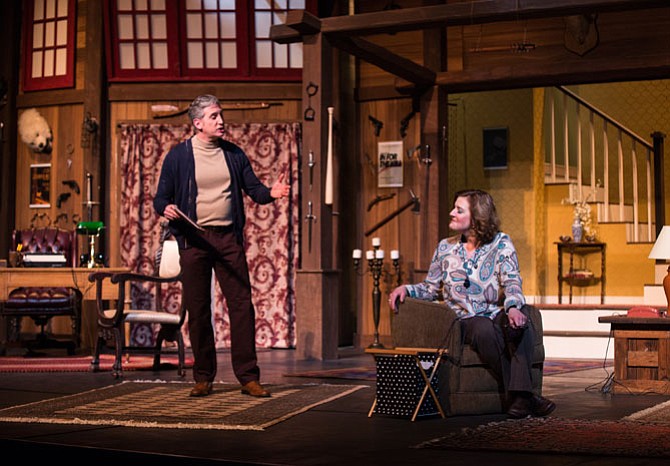 The Arlington Players (TAP) will perform "Deathtrap," the longest running comedy-thriller ever on Broadway, Feb. 5-7 and 12-13, at the Thomas Jefferson Community Theatre in Arlington. The show is a blend of mystery, plot reversals and humor. Its author, Ira Levin, wrote both "Rosemary's Baby" and "The Stepford Wives."
In discussing the challenges of putting on a show, Producer Janet Bordeaux said in community theater, they rely on volunteers. "None of us is paid to do the work that is required to get a show up. Not the board members, the director, the actors, the designers or those who work behind the scenes," she said. "So I would say the biggest challenge is getting people to volunteer their time after a full day of work and giving up weekends."
She added: "People who regularly volunteer their time to The Arlington Players and other area community theaters understand the rewards of putting a show together, but it's hard to convey this to someone who hasn't done it before."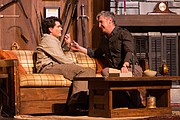 Director Andrew JM Regiec said that last January he chose "Deathtrap" to present to the TAP Board by sending his "bucket list" of shows, and "Deathtrap" was one that caught their interest. "I had seen the show when it was first on Broadway and it left a mark," he said.
Regiec said theatre can be a transformative experience. "This can be uplifting after a musical or contemplative after a drama," he said. "We see lots of movies and TV that tackle the drama — and for good cause. Those media control your focus much more, using closeups and cutaways and underscored music adding to the manipulation the actors and script provide."
He added: "It's a little harder to carry the audience along onstage — more of a burden for the actors. I hope to have helped them fine-tune their motivations and the skills used to convey them to the audience. This, and providing a provocative physical environment for them to play in is my path to providing a memorable theatrical experience."
As far as audience takeaways, he said the show is meant to be a lot of fun for those who like the "who's-gonna-do-it-to-whom" type of show.
Zell Murphy plays the role of Sidney Bruhl, a well-known playwright who hasn't had a hit in 18 years. "He desperately longs for that next successful thriller that will bring him renewed fame and fortune," he said.
Besides memorizing all of the lines, the challenge was "getting a handle on all the details and intricacies of the plot and really trying to get into the head of Sidney Bruhl," he said.
He added: "I want the audience to be shocked and surprised by all the twists and turns that this classic 'one set, five character' thriller will take them on."
Jennifer Lyons Pagnard plays the role of Myra Bruhl, who comes from a wealthy family with a silver spoon in her mouth. "But since her marriage to Sidney, a washed up playwright, she's almost burned through her riches. She enjoys her wealthy lifestyle, and she'll do almost anything to maintain it," she said.
As far as challenges, she said, "It took me a while to find the right approach to Myra. She's not exactly a weak character, but she's certainly not a pillar of strength either. She also has a heart condition, so I had to work that into the character as well."
She added: "If someone in the audience hasn't seen 'Deathtrap,' I think they'll enjoy the unexpected twists and turns of the plot. I also think all of my fellow castmates are giving stellar performances. That, combined with brilliant direction and an amazing set and production team, make for a 'killer' night at the theatre."
Sam Nystrom plays the role of Clifford Anderson, an ambitious young playwright who has written a terrific new thriller and will do most anything to ensure its success.
"There are lots of baits and switches in this play," he said. "And it is tricky deciding a character's real motivation. It can be hard to tell when certain characters are telling the truth because at times, (playwright) Ira Levin has them act a certain way so as not to give away surprises and plot twists to the audience."
Gayle Nichols-Grimes plays the role of Helga ten Dorp, a Dutch psychic extraordinary who is in the U.S. for rest and is co-writing a book. She "gets things right most of the time, but not in the ways you may think," she said.
One of her challenges with the role was trying to sound Dutch instead of German, she said.
Bernard Engel plays the role of Porter Milgrim, an attorney who is there to plant certain seeds which will sprout later in the play. "He is, in other words, a device. If I told you more it would ruin the show for you," he said. "As a dramatic device the challenge was to make sure the 'seeds' would be presented to the audience in such a manner that they would be remembered later in the play.
"I hope the audience will walk away from our performance realizing that quality theater can be found in a variety of venues and that professionalism is not a function of a paycheck," he said.
The Arlington Players will perform "Deathtrap," at the Thomas Jefferson Community Theatre, 125 S. Old Glebe Road, Arlington. Performances are Feb. 5-7, and 12-13, 2016. Fridays and Saturdays at 8 p.m.; Sundays at 2:30 p.m. Tickets are $21.50/adults; $16.50/juniors and seniors. For more information, visit: www.thearlingtonplayers.org or call 703-549-1063.