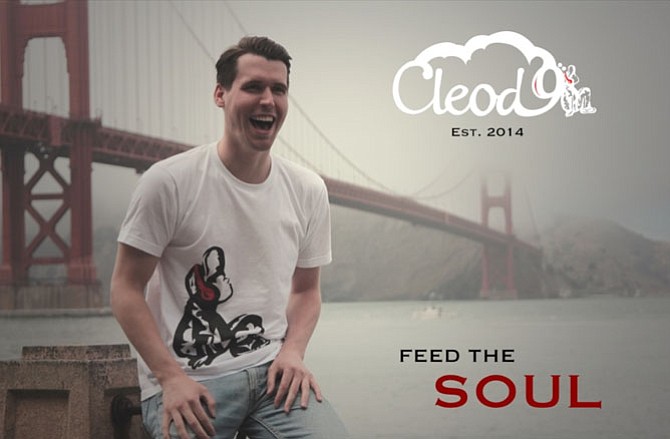 According to local music producer Ian McLeod, one of the biggest misconceptions about the music industry is that you have to move to New York City or Los Angeles in order to make anything happen. McLeod, a 2009 graduate of Alexandria's St. Stephen's and St. Agnes School, turned down a job in New York City less than two years ago to start his own company, Cleod9 Music. With Cleod 9, McLeod creates original and licensed music for commercials, documentary and film.
Since he launched Cleod 9 in the summer of 2014, the company's music has set the stage for a number of both national and international productions, including this year's award-winning documentary, "Sierra Quitiquit: How Did I Get Here," about Sierra Quitiquit, the American professional skier and model.
"How Did I Get Here," McLeod's first documentary, is a currently a part of the 2016 film festival circuit — having already debuted at Banff Mountain Film Festival and slated to appear at Sundance, Telluride and many others.
McLeod said that being a part of the acclaimed documentary was an honor, although thoughts of film festivals and coveted industry awards never crossed his mind.
"I had no idea," McLeod said. "Awards weren't even on my radar. That was our first documentary, so from August to October of last year, that was the only project we were working on. It's about an hour movie, and we scored 40 minutes total, including the trailer and the opening and closing scenes. Since it was our first documentary, it was a really daunting task. The director, Chris Kitchen, was probably thinking of film festivals — not us. My strategy was to break the music process down to its simplest form, and focus on one song at a time."
Speaking of baby steps, McLeod has had a love of music for as long as he can remember. He's a classically trained pianist whose father urged him to tinker with jazz music when he wanted to quit piano lessons.
"I started playing in jazz lounges in D.C. during high school," McLeod said. "That's when I got introduced to hip hop, funk and R&B," McLeod said. "I started making beats and selling them to local rappers. That's basically how I made money during high-school summers. I never had a typical day job."
His love of jazz music also comes from his maternal grandfather, who continues to make music part of his daily life.
"A big-time influence for me was my grandfather, J. Rex Watkins," McLeod said. "He had his own jazz band in Salina, Kansas. He fought in World War II and then traveled all over the world. Through it all, music was always at the top of his list. He continues to be my inspiration."
McLeod graduated from James Madison University in 2013 with a degree in communications and took a job with an advertising agency in Alexandria fresh out of college. He ultimately turned down a job with a New York City ad agency because he knew the grueling hours of corporate advertising would take him away from what he ultimately wanted to devote his life to: music.
"I knew that by going to New York City, I would be working 14 hour days and wouldn't have time to pursue music the way I wanted to" McLeod said. "So, that's when I decided to find a way and make music my career."
McLeod started his own company to help filmmakers and production houses enhance their visual storytelling with music. He is the main composer and producer at Cleod9, and contracts out to four other producers as well as a sound designer.
"I mainly use a keyboard and computer software to compose all the music," McLeod said. "I joke that I'm a great drummer as long as you keep me on the keyboard. If you give me a set of drums, though, I wouldn't know what to do with it."
The success that McLeod has found with Cleod 9 has not come without sacrifice.
"For the longest time, I couldn't pay myself," McLeod said. "For the first six months, I was making $25 to $30 a week. It was really hard. I had to get resourceful."
McLeod would take YouTube videos, strip them of their original music and compose his own. Without a portfolio, this is the work he used to win his first client: National Geographic.
"After Nat Geo, we really found our niche and gained credibility in the Outdoor/Action-Sport world," he said. "We did work for Sony, Red Bull and winter resorts."
McLeod cold-called Jackson Hole Mountain Resort in Wyoming, and was referred to a video production company: KGB Productions. It was good timing, as KGB didn't have a music team anymore. Unfortunately, they also didn't have the funds to pay him for his work.
Still, McLeod composed the music for their promotional video on Jackson Hole Mountain resort. More than 10,000 views later, KGB wanted to work with Cleod9 again. This time, it was for a documentary on Sierra Quitiquit — and they had a budget.
"I said, 'heck yes,'" McLeod said. "I had no idea what I was getting myself into, but we learned how it all worked, and it turned out great. There's not much like the high you get from seeing a finished product all the way through, especially with your name on it."
Even though the projects and his goals continue to get bigger, the process for accomplishing them remains mostly the same.
"I'm fighting tooth and nail for everything," McLeod said. "I still make 30-40 cold calls a week. I'm constantly forecasting for the business. I keep a six-month, one-year and a three-year plan in my records at all times."
One of McLeod's cold calls led to Cleod9's ongoing collaboration with Wit House Productions, a Colorado-based video production company.
"Ian cold-called me out of the blue one day and told me a little bit about his company," Cole Garrison, Wit House Productions, said. "Previously, we had used other music library companies. Ian's music library wasn't as big as some of his competitors, but what he offered was the ability to work on a more customized scope. He was able to take our project to another level, and we were able to tweak the music to be exactly what we needed."
Since Garrison first answered that cold-call, Cleod9 and Wit House have worked together on a number of different projects, including a web series and a video series for household-name brands. They continue to work together on some projects, and through it all, Garrison has been impressed with McLeod's work.
"On a personal level, Ian goes above and beyond," Garrison said. "I've put him in contact with other companies, too, because of how he handles projects and conducts himself. He is always available for his clients. In order to be successful, he doesn't ever hesitate to go the extra mile."
McLeod said he never considered himself born to start a business. For anyone considering taking that leap of faith, he said the process has taught him three important lessons.
"First, talk to people who have done it before, and have been successful at it," he said. "People are always willing to talk about their experiences, either on the phone or over a coffee. Secondly, you have to be mentally tough. Starting a business is a calculated risk, but it's a risk nonetheless. There will be slow days and dry spells. No matter what, you have to have confidence in yourself and your product. Finally, if you focus too much on the money, you'll lose sight of the bigger picture. Some of my biggest clients have come from taking a project pro-bono or for a lesser budget. Be flexible and be proud to partner with brands and companies that you believe in and follow."
McLeod said if he had listened to other people's forewarnings about diving headfirst into this industry, he wouldn't be where he is today.
"Everyone told me this is a dying industry, everyone" he said. "That's bull. People will always be willing to pay for good music if it helps tell a story."
Next up for McLeod? Cleod9's first project of 2016 is an international commercial with Nikon. It's another step in the direction toward his next set of goals: to work on more international and national commercials. He ultimately wants to work on music for feature films.
The future looks bright for McLeod, who said his mind is always on the music.
"You never really turn it off," he said. "In this business, you have to be obsessed."