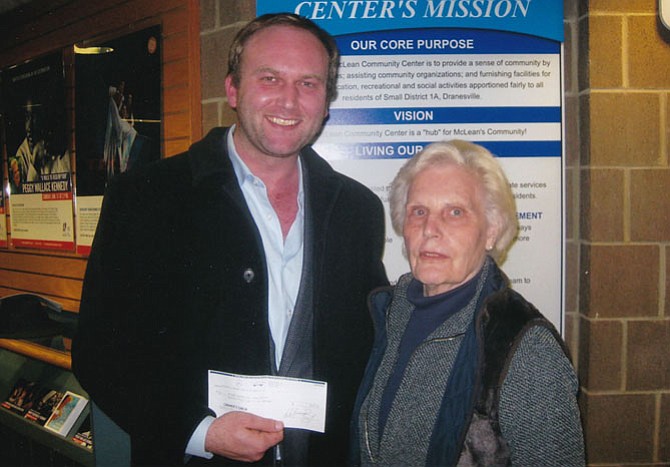 McLean and Great Falls Celebrate Virginia, a statewide community organization organized by Del. Vince Callahan in 2003 to help with the commonwealth's 400th anniversary of the founding of Jamestown by promoting its local history, has merged with the McLean Historical Society.
Following a large-scale event "Celebrate Virginia Today in 2007," its major contribution toward Virginia's 400th anniversary celebration, the group voted to continue in order to bring before the public the historic nature of McLean and subsequently produced three large-scale events such as "The McLean Centennial Celebration," "McLean Remembers the Civil War," and "An Afternoon with the Madisons."
As part of the "McLean Centennial Celebration," the organization commissioned local artist Erik Hottenstein to develop a logo for McLean. A rail car of the Great Falls and Old Dominion Railroad was selected for the design because a rail stop along this route gave McLean its name.
With funding from Friends of the McLean Community Center and the McLean Historical Society, Celebrate Virginia presented the McLean Community Center with 64 framed photographs of early McLean that members had researched and captioned. The photos are on permanent display and are the largest such collection in Fairfax County.
The James Madison Trail through the grounds of Chesterbrook Elementary School was refurbished by Matt Hinton of Boy Scout Troop #128 as an Eagle Scout project. This trail is thought to be part of the route President James Madison took the night he fled into the Virginia countryside as the British burned the nation's capital city. The organization later assisted Chesterbrook's sixth grade Class of 2014 with its graduation gift of a marker commemorating Madison's route through the school grounds.
Other projects included a collection of oral histories that resulted in two books: "100 Recollections of McLean and Great Falls, Virginia" and "Additional Recollections of McLean and Great Falls, Virginia." This was followed by an original play, "Captain John Smith: History;" the identification and marking with bronze plaques 46 historic properties and trees; a walking trail map of the Langley Fork Historic District; and sponsorship of trips, lectures and tours of historic properties
In addition, three Fairfax County historic roadside markers were installed for Salona, the Laughlin Building and the Chesterbrook community. A historic table top marker was placed at Lewinsville Park which details "The Battle of Lewinsville."
The first annual Henry C. Mackall Award was launched in 2014 with Roger Mudd as its first recipient.