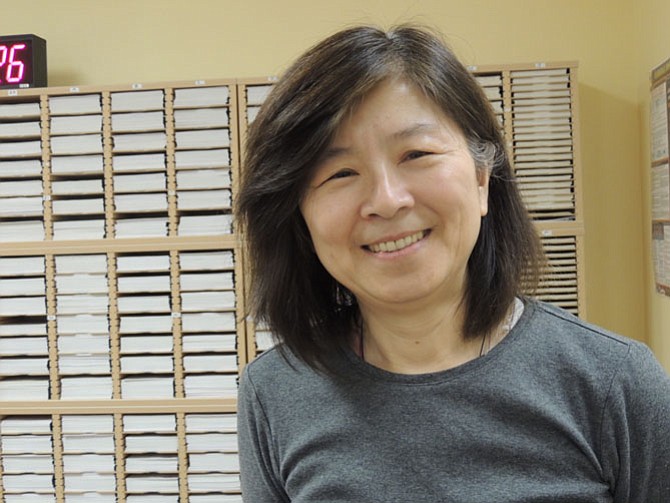 Karen Forng of Potomac is the owner of the newly renovated and relocated Potomac Kumon Math and Reading Center. Because of her first-hand experience with the Kumon program, she is a true believer — and she opened her business to share Kumon with the many students who need academic support in reading, math and study skills.
She feels that the Kumon program is the reason her own son became a confident, successful student. Recently, she moved her business to the Potomac Promenade Mall, where the UPS, Kick's Karate and other new stores have made it come alive. Two-hundred to 300 students come on Monday and Thursday afternoons to hone their skills, improve their grades and discover methods for conquering the challenges of learning.
Kumon was created in 1954 by Toru Kumon, a Japanese father who wanted his son, Takeshi to develop a love for learning. He also wanted him to be thoroughly prepared for rigorous high school and college entrance exams. Each day, Toru gave his son "short incremental assignments" to complete, allowing for his son to master each concept completely before learning a new skill. This learning program was so successful, by 6th grade Takeshi was solving calculus problems. Other people noticed and wanted Toru to help their children. Thus, Kumon was created and has helped millions of children in 49 different countries.
"Kumon is different from most tutoring programs because it instills the ability to work through problems in each child. Instead of taking notes, memorizing facts and being fed information from a teacher or a tutor, the child is actively engaged in developing critical self-learning skills," Forng said. "Kumon helps to accelerate learning in children as young as age 3 through high school." Forng has 10 years of elementary teaching experience in elementary schools. She also had a full year of Kumon training in Teaneck, N.J. and regularly attends workshops.
Students come to Forng's classroom twice a week for approximately 30 minutes each. They are introduced to new concepts, guided through worksheets to practice these concepts and then their mastery of the subject is checked. Forng develops a separate learning program for each time the student comes to Kumon as well as for practice at home. Kumon worksheets at home to enhance their skills and teach students to learn to work confidently within a measured amount of time. Special-needs students also find the reading, math and study skills support to be beneficial. "It's the specialization and working at one's own pace — I have many special-needs students," said Forng.
"Students gain self-confidence and become more interested in the subjects they are studying," said Forng. "When they have mistakes on their worksheets, they ask for help. However, I don't just give them the answers, I make certain they figure out the correct answer on their own. I support them to learn." Each class is supported by high school and college students who assist the Kumon students with one-on-one help.
"Education is so rewarding — I love seeing the children improve in their skills, earn better grades and feel better about themselves. I have a true desire to help students succeed," she said.
To learn more about the Potomac Kumon Reading, Math and Study Skills Center, contact Forng at 301-795-2788 or email her at karenforng@ikumon.com. Kumon is located at 7912 Falls Road, Suite 113 in the Potomac Promenade Shopping Center. Visit www.kumon.com/Potomac.