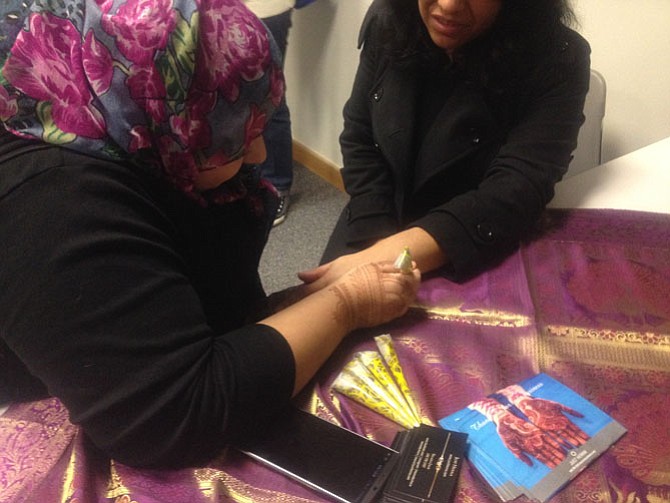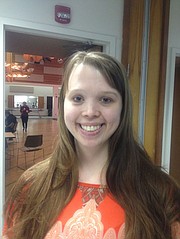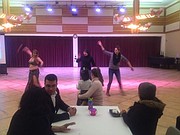 Reston Community Center (RCC) hosted "A Taste of the Arab World" at Hunters Woods Friday, Feb. 12. The free evening event including henna hand art, Middle-Eastern appetizers and belly dancing. The event was organized by Aubrey McMahan, an Arabic instructor at Reston Community Center. "We are glad Reston Community Center was able to host this event," said Adam Paz, a resident of Reston who helped put up fliers for the event.
The event was made possible with a cultural grant from the U.S. Department of State and American Councils for International Education. The henna hand art was done by Shazia Jalil, and the dance performance was conducted by Leyla Shanab. "It was nice, it gives people an idea of what various countries are like," said Al Torzilli, who attended the event with his wife Ellen. "I loved the dancing and the henna was great, I am glad they held this event," said Reston resident and film director Rebekah Wingert-Jabi, who brought her daughter to the event.
"I wanted to keep the event as community-centric as possible, and if the opportunity to host this event again in the future comes up, I'd love to see the event involve as much as the RCC and Reston community as possible," said Aubrey McMahan. McMahan previously helped run the "Taste of the Arab World" event as a student at Grand Valley State University in Michigan. Visitors to the Reston Community Center have the opportunity to see "Inspired by Love" art exhibition display at Hunters Woods, presented by the League of Reston Artists until Feb. 29.
RCC HUNTERS WOODS is located at 2310 Colts Neck Road, Reston. "Inspired by Love" features the works of painters, mixed media artists, photographers and other creators of two-dimensional art. Reston art lovers can meet artists artists during the reception on Feb. 20.
Another art exhibit on display in Reston is the Landscapes and Portraits 2016 Xing Wen Art Studio Exhibition. This exhibit runs until Feb. 29 at the Jo Ann Rose Gallery. Xing Wen (Wendy) graduated from the Academy of Fine Arts of the South West University of China and has been teaching students ages five to eighteen how to paint at her Fairfax studio. In this exhibit, Xing Wen's paintings are interspersed with those of her students. There are over 70 watercolor, oil pastel, acrylic, charcoal and pencil paintings. Many depict colorful birds while others show flowers, landscapes, and animals.
FRIDAY, FEB. 26 and Saturday, Feb. 27, RCC at Hunters Woods will host a discussion by john a. powell on the impact of racism in educational, social and economic spheres. Free tickets will be available from the CenterStage Box Office. The event will be an opportunity to explore where Reston is today and how it can continue to live the values of Reston's foundation. Professor john a. powell is director of the Haas Institute for a Fair and Inclusive Society and holds the Robert D. Haas Chancellor's Chair in Equity and Inclusion at the University of California, Berkeley, where he is a professor of law.
RCC at Hunters Woods will host a Country Western Dance event on March 6 from 6:30 – 9:30 p.m. Guests 18 years and older can learn line dance, two-step, shuffle and swing the night away to popular country/western tunes played by RCC's DJ. Dances are held monthly in the Community Room, which offers a wooden dance floor and a smoke free environment. Refreshments will be provided.
RCC is collecting gently used dresses, shoes, and accessories for the 2016 Diva Central Prom Dress Drive. The event helps make prom dreams come true for local teens in the area. Dresses and other items may be donated at RCC Hunters Woods (2310 Colts Neck Rd.) through March 26. For more information, see www.restoncommunitycenter.com.