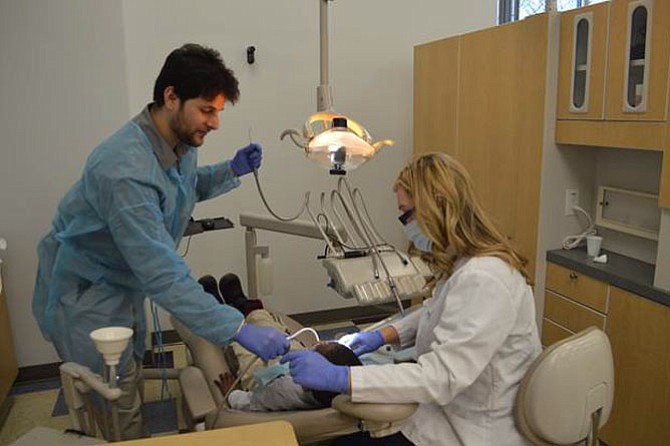 The Medical Education Campus (MEC) of Northern Virginia Community College hosted the 2016 Give Kids a Smile event (GKAS) on Friday, Feb. 5. The event, sponsored by the Northern Virginia Dental Society, provided free dental services to 342 preschoolers from the Arlington County Head Start Program. The children were seen by 34 volunteer dentists, six volunteer hygienists, 43 dental assistants, 24 second-year dental hygiene students and 13 dental assisting students enrolled in the program at the MEC.
Each year on the first Friday in February, GKAS takes place to provide free dental services to children in underserved populations that are referred by the Northern Virginia Dental Society. Cathy Griffanti, executive director of the Northern Virginia Dental Society (NVDS), said approximately $61,000 worth of dentistry was provided to those who received care and several NVDS member dentists volunteered to take on the children as patients pro bono into their own practices.
Maria Gerald, a teacher with the Arlington County Head Start Program, said her class of 18 students was eager to see the dentist. The children received free evaluations, prophylaxis (teeth polishing) and fluoride treatments.
"Our parents take full advantage of the GKAS event and we encourage them to let their children participate," Gerald said. "For some of our students this was their first time visiting a dentist, so it helped for them to experience this with their classmates, making it a more comfortable situation. Now our students know what to expect the next time they have a dental visit."
In addition to receiving free dental care, all participants left the event with goodie bags that contained a toothbrush, toothpaste, stickers and dental floss to help maintain a healthy smile.