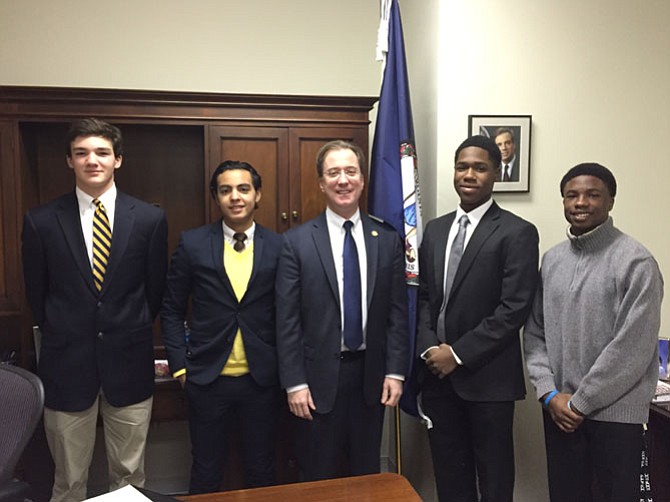 Recently, I recognized the sixth annual Amundson Institute scholars on the floor of the Capitol in Richmond. The Amundson Institute provides an educational opportunity for high school juniors and seniors who live in or attend a school located in the 44th district on the role of the Virginia state government and top government relations professionals. We had two students from Mount Vernon High School and two students from West Potomac participated in this year's program.
These young scholars watched the law-making process in action, attended a General Assembly session, met Governor McAuliffe, Secretary of the Commonwealth Levar Stoney, and toured both the Capitol building and the Executive Mansion.
I selected this year's participants based on their impressive qualifications and on their proposed individual research projects relating to an aspect of the legislative process about which they feel passionately. The 2016 Amundson Institute Scholars will present their projects in the spring.
I also want to give my sincerest thanks to this year's chaperone, Mike Damitz, who generously shared his time and enthusiasm with the students, demonstrating for them Sec. Stoney's lesson to the scholars on the importance of building relationships and networking. Damitz was also pleased to learn Sec. Stoney attended James Madison University with his daughter.
Del. Amundson created the institute, called The Young Leaders Program, to introduce high school students in the Mount Vernon area to the Virginia State Government process back in 2000. Surovell continued the program and renamed it The Amundson Institute after her retirement, in honor of her commitment to educational opportunities for young leaders. The program includes funding for all transportation, meals, daytime activities and sleeping arrangements.
The program, sponsored in-part by Cox Communications, is an opportunity for young leaders to learn about legislative and public service careers at the state level. The students enjoyed meeting with Barrett Storck, a representative from Cox to learn about his career with Cox.
They also met with Sen. Scott Surovell (D-36), Sen. Adam Ebbin (D-30), former Delegate and current director of business network Virginia Free Chris Saxman (R-20), former delegate Kris Amundson (D-44), and government affairs professionals from the Virginia Beer Wholesalers and Planned Parenthood Advocates of Virginia.
I am very proud of this year's students. Getting to know these bright young minds in the 44th District was a pleasure and I am thrilled at what the future will have in store for them, and for our community, as they become tomorrow's leaders.